Washington Capitals: Choose 3 Dinner Guests from Team History
The Washington Capitals have had some good personalities over the years.
If you had to choose three Washington Capitals to have over for dinner who would they be? The team has some interesting people in their lineup both currently and throughout their history. There have been some big personalties, some gentle giants, and those you would vote for if they ran for president.
Imagine if you were hosting a small dinner party? Let's say you could pick two players and one coach through the team's history. They were going to come to your home. As you serve them dinner, you get to pick their brains or just get to know them better.
The rules? One current player, one former player and one coach.
Current Players
We have some great personalities on the team now. There's the podcast bros Nic Dowd and Garnet Hathaway. There's a sweetheart like Jakub Vrana. And there's even some jokesters like T.J. Oshie and Tom Wilson who have extra fun during the warmups with the butt taps.
What if you're looking for someone that tends to say the funniest things like he does during postgame interviews? Look no further than Evgeny Kuznetsov.
For me personally, I would invite someone with a lot of personality and they would be fun to have over for dinner and drinks. The most obvious person is team captain Alex Ovechkin or his side kick Nicklas Backstrom. Plus there's Braden Holtby, who would talk about things that are even more important than the game of hockey.
And let's not forget about Lars Eller, one of the most clutch Caps players of all-time. After he scored the game-winning goal in the Stanley Cup Final a few years ago, he deserves all the drinks in the world.
Former Players
The Washington Capitals have been around for 45 years. That's a lot of players that have passed through.
The obvious choice would be the superstars we've had in our team history: Peter Bondra, Adam Oates, Steve Konowalchuk, Dale Hunter, Mike Gartner, Rod Langway, and Yvon Labre to name a few.
That's a lot of hockey knowledge in that group and several generations of Caps players.
But there's even more players that can be good dinner candidates. Olaf Kolzig and Craig Laughlin come to mind. You've also got Calle Johansson, Sergei Gonchar, Kevin Hatcher and Scott Stevens.
There have been many great alumni that have suited up in a Caps sweater and plenty of options there.
Coach
Our choices are now narrow to under 20 as there have been 18 coaches in Washington Capitals history. To name a few we've got the first coach in Caps history Jim Anderson. There's also their first Jack Adams award winner Bryan Murray. Ron Wilson coached the Capitals to their first appearance in the Stanley Cup Final. Glen Hanlon was part of the slippery slope in the rebuilding process. You got a great personality in Bruce Boudreau. Of course there's also Barry Trotz who coached the team to the first Stanley Cup title. I'm sure he has plenty of stories from that run. And then you've got current head coach Todd Reirden who was previously an assistant.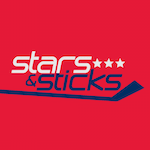 Want your voice heard? Join the Stars And Sticks team!
Write for us!
Final Consensus
If it were up to me I would choose Alex Ovechkin, Peter Bondra and Bruce Boudreau. With that you got two gifted goal scorers in the same room plus Boudreau's sense of humor to keep the party going.
If I wanted a little more fun, like drinking fun, maybe Jakub Vrana, Craig Laughlin and Barry Trotz.
For a good hockey conversation I would have Tom Wilson who knows a thing or two about hitting, Rod Langway and Bryan Murray.
In the end though I would settle with Ovechkin, Bondra and Boudreau as they all have been personal favorites of mine in my 17 years of following the team.
How about you, Caps fans? Who would you invite as dinner guests?