Washington Capitals: Should Connor McMichael Be Called Up For The Playoffs?
Should the Washington Capitals call up Connor McMichael?
Every year NHL teams bring in a group of players, usually within their own system and usually young guys, to come in a be a backup come playoff time. Those guys, as we just said, are usually younger guys with very little to no actual National Hockey League experience.
The point of this is two fold. One, again, we just said it, it's back up. If a player gets injured or possibly even suspended you have that extra player just in case. The other reason is development. These guys are usually at the end of their junior or college careers and are getting ready to transition into the pro game.
Should this be the approach for the most recent first round draft pick for the Capitals in Connor McMichael?
I'm going to say this right now to get it out of the way. I was a little disappointed when the Capitals drafted McMichael. I thought there were better players available when that pick was made. Of course what do I know, I just read scouting reports. I wanted the Capitals to draft a guy like Bobby Brink who was available and I read scouting reports that compared him to T.J. Oshie, someone we're all familiar with.
McMichael however was selected. As disappointed as I was, he blew me out of the water with how good he looked in the preseason. As I kept watching him I was thinking he would for sure stick around for the entire training camp and preseason. Even the way he looked I thought maybe the team will give him a look in the regular season before sending him back, to make sure they didn't burn a year of his entry level contract.
Evgeny Kuznetsov was suspended to start the season as you may recall, that being the reason I thought they might give the then 18-year-old a shot to start the season.
So count me as shocked when they sent him back to juniors just two games into the preseason with four games left and about a week and a half of camp remaining.
As disappointed as McMichael could have been he didn't seem to show it on the ice. You'll have to pardon me, I don't get to watch a ton of London Knights game. However, scoring 102 points in 52 games? I'm going to go on a limb and say that's pretty darn good. He scored 47 goals and 55 assists in 52 games.
It's these situations that you think that maybe the system is screwing with McMichael here. He may just be too good for junior, but he was too young to jump a level and go into the American Hockey League and join the Hershey Bears. That situation has happened before and it will happen again. It's just a tricky situation.
It's also a situation we're likely not done talking about as McMichael will still be ineligible to play in the AHL next season. Next season is definitely the season you want to see a kid like him make a jump to the next level but an NHL spot is unlikely which will force him back into junior.
But in a season where he averaged nearly two points per game, scored six hat tricks and was named to the Ontario Hockey League's second all-star team you have to expect McMichael will in fact get a call and be with the Capitals when the league resumes play.
Now this is not a regular season or instance. You have to think about the safety of the teams and players these days.
If it is deemed safe, then absolutely, one hundred percent Connor McMichael should be with the Capitals in the playoffs. Sure, he's unlikely to play. However, being around a veteran team who has been there and done that and learning from some of the best players in the world at the most important time of the NHL season could be huge for the development of this young guy.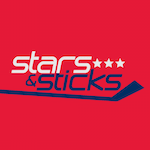 Want your voice heard? Join the Stars And Sticks team!
Write for us!
If you don't know much about McMichael's game, I'll leave you a few links to go read about what kind of player he is. To just summarize what I've seen and read though. He's a great skater, has a great shot and release, good defensively and has some leadership abilities. Scouting reports I've read have said that if development goes well he could be a very good second line center. His play even resembling Auston Matthews, just his play not how good he is. Don't get those two mixed up!
If you're not excited about this player after what's been said about him I'm not sure how big of a Capitals fan you are. Connor McMichael had a tremendous season in juniors this year, and I think he should be with the team in the playoffs to take another step in his development.