Washington Capitals: Remembering when they took the rivalry with the Penguins outside
In 2011, the Washington Capitals and Pittsburgh Penguins took it outside.
In a New Years Day to remember under the lights, the Washington Capitals defeated the Pittsburgh Penguins 3-1 in the 2011 Winter Classic at Heinz Field. It was a house divided as many Caps fans made the trip up to Pittsburgh and it was a trip well worth it. The football home of the Steelers was turned into an ice rink with a crowd of 68,111 looking on.
It was scoreless in the first period in an otherwise physical game. Alex Ovechkin even laid out a vicious hit on Zbynek Michalek that required a repair of the glass. In the second the Penguins took the lead at 2:13 with a wrist shot on a breakaway by Evgeni Malkin.
The early deficit wouldn't phase the Caps. At 6:54 it was Mike Knuble who would come through and tie the game with a rebound goal right in front of the net. Nicklas Backstrom and Mike Green had the helpers.
At 14:45 the Caps took advantage of a blunder by Marc-Andre Fleury. Fleury tried to play the puck behind the net but it was stolen by Marcus Johansson, who fed the puck to a wide open Eric Fehr for the first of two goals scored by him.
Fehr added his second goal of the game at 11:59 of the third period, taking a lead breakaway pass from Jason Chimera and burying it past Fleury for a 3-1 lead which would go on to be the final. John Erskine had the secondary assist.
Penguins fans exited the building and the Caps fans that made the trip were saluted by the team coming off the ice.
"You can see, you can hear when we score goals how many people was fans of Washington. I can see a thousand people in one spot, a thousand people upstairs, it was really unbelievable," said Alex Ovechkin via Katie Carrera of The Washington Post.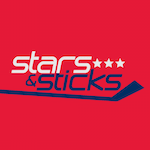 Want your voice heard? Join the Stars And Sticks team!
Write for us!
Semyon Varlamov got the start in goal and made 32 saves.
"For us it was a month long buildup, where it didn't start up pretty good but this was as close to the Stanley Cup that we've gotten. We're not denying that was more than just two points. It was a fabulous game. We came in wanting to win this thing, and we got lucky and did," said then head coach Bruce Boudreau.
For the Caps, this was a huge win for the franchise and helped lay the groundwork for even bigger wins against the Penguins in the future.