Washington Capitals: Is Henrik Lundqvist A Better Option Than Braden Holtby?
It is free agent season in the hockey world.
It's the time of the year when we all put on our general manager hats and try to point out who our favorite teams should sign. We all have names in our heads that we hope our favorite teams will snag in the opening hours of free agency. I'm guessing, for a lot of Washington Capitals fans, one name that was on a lot of their minds was Henrik Lundqvist.
Well rejoice Caps fans, he's here! On the first day of free agency Lundqvist signed a one year deal for $1.5 millon. A cheap, great, veteran that we all knew the Capitals should get to backup Ilya Samsonov this coming season.
Lundqvist is 38-years-old however. How much gas does he have left in the tank? If he gets bought out by his longtime former club, is he even that good anymore? Looking at what Holtby got with the Canucks, couldn't the Caps have signed him on a one year deal?
Looking at the stats, the Capitals might have just landed an upgrade for several reasons.
First off, even though the Holtby contract was cheaper than I thought it would be, it was still pretty expensive for the Capitals. Lundqvist is three million cheaper. Win for Washington there.
We can also look at some stats and last seasons stats show that Lundqvist was better than Holtby.
Both teams were similar defensively last season, the Capitals were slightly better in front of Holtby than the Rangers were in front of Lundqvist. Lundqvist having better numbers than Holtby despite the slightly worse defense is a good sign for Caps fans.
These numbers will be 5v5 for the most part, so keep that in mind.
Lundqvist's 5v5 stats had him giving up 2.62 goals per game while saving .917% of the shots he faced. Holtby gave up 2.93 goals a game and saved .905 percent of the shots he faced.
One big area that Lundqvist soundly beat Holtby was goals saved above average. Among goalies that played 1,200 minutes or more Lundqvist had a GSAA of -1.19, still a negative number, but way better than Holtby. Holtby's number was third worst among goalies with 1,200 minutes or more. His number was -14.70. Forty-eight goalies played 1,200 minutes or more, Holtby ranked 46th out of those goalies, Lundqvist was 32nd.
They both saw just about the same amount of high danger shots per game. Holtby had 6.33 high danger shots against per game and he saved .786 percent of those shots. Lundqvist faced 6.66 high danger shots a game and he saved .850 percent. Again, among the forty-eight goalies who played 1,200 minutes or more, Holtby ranked 45th in high danger save percentage, while Lundqvist ranked 9th.
"The King" ranked 11th in high danger goals saved above average, saving 5.27 goals above average. Holtby on the other hand ranked 47th, saving -11.39 under average.
Just so we can have all the numbers, I'll show you both of these guys numbers for all situations.
Holtby had a 3.11 GAA, a .897 save percentage, he had a GSAA of -16.81. His high danger save percentage was .780 and he had a high danger goals saved above average of -12.37.
Lundqvist had a GAA of 3.16 and a save percentage of .905. His GSAA was -4.04. He had a high danger save percentage of .836% and a HDGSAA was a very good 5.95.
So "Hank" last season put up better numbers than Holtby. I think anyone who watched Caps hockey last year knows that Holtby wasn't great last season, at the same time he didn't get much defensive help either.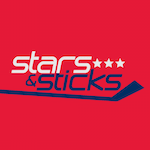 Want your voice heard? Join the Stars And Sticks team!
Write for us!
We also don't know how much Lundqvist has left to give. However, based on the numbers, and assumption that the Capitals will be better defensively under Peter Laviolette, we can say the Capitals are not in bad shape in the goaltending department.
Are they in better shape than last season? Only time well tell. Signing Lundqvist was a terrific move. If Samsonov was to falter next season, Washington has one heck of an option behind him. This is just another reason why Capitals fans should be very excited for next season.