Washington Capitals: An Alex Ovechkin hat trick dedicated to his biggest fan
Today we look back at one of Alex Ovechkin's best hat tricks.
What made this Alex Ovechkin hat trick special wasn't the fact that the Washington Capitals star got a hat trick itself. It was that he dedicated that game to one of his biggest fans. Alex Luey, a teenager who was battling bone cancer, was promised at least a goal by the great eight himself but went on to score three goals.
Luey was battling osteosarcoma which caused his right leg to be amputated in September 2016. Ovechkin first met the fan on a video chat when Sportsnet held their "Hoemtown Hockey" broadcast at Niagra Falls on Oct. 8, 2017. The hosts surprised Luey with a video message from Ovechkin that included an invitation to their game against the Toronto Maple Leafs at Scotiabank Arena the next month.
The date was Nov. 25, 2017, three years ago yesterday. On this Throwback Thursday we'll take a look back at the 4-2 Capitals win. Ovechkin got things started at 12:43 when he ripped one right up the middle into the net. Nicklas Backstrom had the assist.
The Caps went on the power play attack when Ron Hainsey was called for delay of game and on the attack Ovechkin would double their lead at 19:13. After T.J. Oshie won the face-off at the right dot, Ovechkin was waiting for the puck to come to him and then he ripped a one timer blast.
In the second period at 11:02 the Caps added to their lead with a breakaway goal from Jakub Vrana. Oshie and Matt Niskanen were credited with the helpers. In the third period the Maple Leafs tried to mount a comeback.
The Maple Leafs got on the board at 1:24 with a goal from Jake Gardiner and they got another one from Nikita Zaitsev to close the gap to 3-2. Ovechkin would seal the game with an empty net goal to complete the hat trick with Oshie and Backstrom assisting. You can see the full higlights here.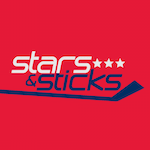 Want your voice heard? Join the Stars And Sticks team!
Write for us!
Ovechkin gave that fan a night he'll never forget and the two's relationship extended beyond that game. Ovechkin also scored in two other games Luey attended that season and after the Caps won the Cup the captain invited him and his family to the parade.
The last time Ovechkin saw Luey alive was last October when the Caps were in Toronto taking on the Maple Leafs. After the Caps won, Ovechkin gave Luey the Nationals batting helmet for the player of the game.