Washington Capitals: How Nicklas Backstrom Can Live Up To His New Contract
How Washington Capitals Nicklas Backstrom can live up to his contract.
You don't need us here at Stars and Sticks to tell you how great a player Nicklas Backstrom has been throughout his career for the Washington Capitals. Yet I'm going to tell you anyways. Just look at the franchise leaders in the most important stats.
Backstrom is 4th in games played, 4th in goals scored, 1st in assists, 2nd in points, 4th in power play goals, 4th in game winning goals and 1st in +/-. Allow me to inject my not so professional opinion, that is pretty good. And, of course, all of those stats are "and counting". He's not even close to being done.
We know he's not close to being done because he is just 33-years-old and we also know that in the middle of last season he signed a new five year contract worth $46 million.
I know for a fact that I am one of the few that doubts this contract a little bit. I'm not going to come out and straight up say this is a bad contract. What I do hope however is that this contract isn't being given due to what Backstrom has done in seasons from three or four years ago rather than what he's done in the past two or so seasons and what he can do going forward.
When I watch and try to analyze games or player performances I don't look for players. I simply watch the game and wait for players to stand out. If you stand out that either means you're playing great or not so great. Backstrom over the past couple of seasons never stands out to me anymore.
Again, if he's isn't standing out that means he isn't doing awful. So before you come at me saying that I'm saying he's now a bad player, think again. But this new contract makes me nervous.
Backstrom is getting a pay hike from $6.7 million a year to $9.2 a year. As we mentioned before he's 33-years-old, as in not getting any younger and not getting any faster in a league that is doing just that. The Capitals are also a cap strapped team, they have very little wiggle room with some important players to sign in the near future. To name names, Alex Ovechkin needs a new contract after this coming season as does Jakub Vrana and Ilya Samsonov.
This contract and cap hit also goes until Backstrom is age thirty-eight. Ovechkin will likely be getting a pay raise as well so the Capitals will have a big chunk of their salary cap tied up in aging players. I have more faith Ovechkin can live up to whatever his contract will be than Backstrom. Thanks to the pandemic, who knows how much or how soon the cap will go up to give the Capitals some relief.
I also know you will have people saying how Backstrom does all the little things well and he might not stand out for that fact. It's just my opinion, but when you have a cap hit of $9.2 million you need to do more than all the little things well, you need to put up better stats than Backstrom has in the past two seasons.
The past two seasons Backstrom has done this, 22 goals 52 assists and 74 points in 80 games in 2018-19. The next season (last season) he put up 12 goals and 42 assists for 54 points in 61 games. Again, that's not bad, but with the bigger contract I want to see more. I personally can't have Backstrom not being a stand out player on most nights.
Over the past two seasons Backstrom has averaged .90 points a game. Most NHL players would dream of averaging that for two weeks or months, let alone two seasons. But I'll say it until I'm blue in the face, bigger contract, bigger needs. I need more.
How much more? In 2016-17 Backstrom scored 23 goals, dished out 63 assists and totaled 86 points. He played in all 82 games for the Caps that year which means he averaged 1.04 points a game. That's pretty close to what I want to see from Backstrom for the next couple of seasons and especially this upcoming season.
Of course this is not a full 82 game season so Backstrom will not be getting 86 points. If he did get 86 points this season that means in a regular 82 game slate he would score around 125 points. Unlikely!
We can take that 1.04 points per game from 16-17 and give it to Backstrom this season and I think that would be good. If we give him that he'll score around 58 points in this 56 game season.
Backstrom has never been a huge goal scorer in his career. He scored 33 goals in 09-10 and that's his career high. His next highest is 23 which he scored in that 16-17 season. He has scored 22 twice as well. Last season in 61 games he had just 12 goals. If he scores low twenties in 82 game seasons he's around .26 goals a game, last season he had just .19 scored a game. If he gets back up to the .26 region that means 15 goals should be the goal.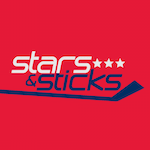 Want your voice heard? Join the Stars And Sticks team!
Write for us!
So the targeted stat line for Backstrom in this shortened season looks something like 15 goals, 43 assists totaling 58 points. This assuming he plays in all 56 of the teams games.
Going forward I think Backstrom's new contract gets trickier and trickier. However if he can improve statistically a little and be more of a standout player most nights I'll have absolutely zero issues with the contract. He is a heck of a player. There is no doubt in my mind he can do it, but will he?