Washington Capitals: Comparing The Goalies Since Samsonov's Return
For at least the last decade now the Washington Capitals have been pretty fortunate when it comes to having good goalies. It's one thing to have one good goalie, let alone multiple good, young and promising goalies. The Capitals had just that ten years ago.
In the early 2010's it was Semyon Varlamov and Michal Neuvirth fighting it out in goal. Then seemingly out of nowhere Braden Holtby comes and becomes the franchise goalie. He only went on to have a little success.
These days the Capitals once again have two young goalies who are trying to prove that they deserve to be "the guy". Those guys obviously being Ilya Samsonov and Vitek Vanecek.
Samsonov was the number one coming into this season but was sidelined for an extended amount of time due to Covid protocol. Vanecek wasn't even supposed to be on the Capitals roster, but Henrik Lundqvist was forced to sit out due to his health problems. Not only was Vanecek not supposed to be on this team, he was then forced to be the starting goalie for an extended amount of time.
While he wasn't lights out during that period he definitely proved he deserved more time in the NHL once Samsonov was able to return. Samsonov has in fact returned and since then both of the Capitals goalies have been pretty good, if not creeping into the great category.
Samsonov has gotten the majority of the starts since he returned to the lineup on February 28th. He has played in 7 games to Vanecek's 5. The eye test has said that Samsonov has been slightly better than Vanecek, but not by that much. The numbers back that thought up.
In Samsonov's 7 games since his return he is 5-1-0, his lone loss coming in the Caps most recent game vs the Rangers. In that time he has posted a 2.20 goals against average and a .920% save percentage.
A couple of other numbers to point out, he has a .909% High Danger Save Percentage. He is one of only seven goalies to have a HDSV% over 90% since since the 28th of February (among goalies who have played more than 200 minutes since then which is 47 guys). Samsonov also has a Goals Saved Above Average of 2.30, which means he saves 2.30 more goals than the average goalie. His GSAA ranks 15th of 47.
Vanecek on the other hand is 4-1-0 since the 28th. He has a 2.13 goals against average with a .919 save percentage. A better GAA than Samsonov but an ever so slightly worse save percentage. In that time Vanecek also recorded his first career NHL shutout against the Sabres. It's the more advanced numbers that you see more of a separation in these two guys.
Vanecek's HDSV% is .867%. That's still good. Out of the 47 goalies that fit our qualifications he still ranks in the top ten at 10th. Honestly, 86% High Danger Save Percentage isn't a number to sneeze at either.
In the GSAA he falls a little more, going towards the middle of the pack. Since the 28th he has a GSAA of 1.48. That ranks 21st out of 47. It's still a positive number, but it is nearly one whole goal behind Samsonov.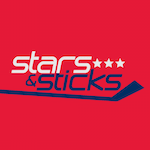 Want your voice heard? Join the Stars And Sticks team!
Write for us!
Something I think that needs to be pointed out before we get out of here is this. Vanecek has seen 30 high danger shots against in his 5 starts, Samsonov has seen 33 in his 7 games. If we average that out it means Vanecek sees 6 per game while Samsonov only sees 4.71. It's not a huge difference, but it is still pretty big when it comes to that stat.
Goaltending isn't really something the Capitals have had to worry about this season. If they continue to play well it will only mean good things when the games get very important in the spring and summer.