Washington Capitals Grades: Lars Eller 2021 Report Card
You could probably call Lars Eller "Mr. Reliable". If you're a deep team at forward, and have good center depth Eller is possibly the perfect third line center. While he doesn't have the best scoring touch in the world he is still a guy who can go up and down a lineup whenever a team needs him to.
While he can go and up down a lineup, he can also play on the power play and penalty kill. He is also pretty good at faceoffs, winning over 50% of his draws taken in the last two seasons. He can almost do it all and do it well. He could very much be the Washington Capitals swiss army knife. Or in his case a Danish army knife. Dad jokes for all!
This year the Capitals "Mr. Reliable" was no different. He did it all, went up and down the lineup, played in nearly every situation, and put up points at a rate that has has since he arrived in Washington five years ago. The only thing he did different this year was miss some time. In his first four seasons in D.C. Eller missed a combined three games. This past season he missed a total of twelve games. He also missed about a game and a half in the playoffs due to injury.
While missing time is obviously annoying, it was still an effective season for the 32-year-old center. In the 44 games he played this season he scored 8 goals and added 15 helpers for a total of 23 points. If he played in 70 games this year (taking 12 away due to the time he missed) he was on pace for 36 points. That is his wheelhouse for points scored. His last three seasons he has scored 38, 36 and 39 respectively.
You could argue that Eller was the team leader in almost every major advanced stat. The only guys that were ahead of him in every stat were guys that played in less than half of the games than he did. Guys like Connor McMichael, Michael Raffl, Anthony Mantha, Trevor van Riemsdyk and Philippe Maillet. None of those guys played over twenty games this season for the Caps. Here is what Eller's numbers looked like this season.
Corsi% – 55.09
Scoring Chance For % – 56.15%
High Danger Attempts For % – 58.33%
Expected Goals For % – 57.01%
All of those are really good numbers. Again, Eller on a lot of teams can probably be a number two centerman. But when you have a guy like him as your number three you can get performances and numbers like he gives the Capitals. If he isn't the best third line center in the NHL he is in the upper echelon for sure.
We have to at least talk about the playoffs. It gets redundant to say it time and time again, but almost nobody had a good playoffs for the Capitals. Eller was likely banged up going into the playoffs and then also had some injury trouble in the playoffs. He didn't have a great postseason and he is one of the many who can likely use health as a bit of an excuse.
In the playoffs Eller had just one point in the four games he played, that one point was just a secondary assist. His advanced numbers looked like this.
Corsi % – 51.61%
Scoring Chance For % – 48.94%
High Danger Attempts For % – 33.33%
Expected Goals For % – 42.47%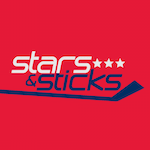 Want your voice heard? Join the Stars And Sticks team!
Write for us!
It almost just keeps getting worse when you look at those numbers. He was on the right side of 50% when it comes to shot attempts, but you can see that the scoring attempts and high danger attempts were clearly in Boston's favor when he was on the ice.
Grade B+: I feel like Eller is a very B+ kind of player. Nothing he does is incredibly flashy, just effective and good for the team. If you want to give him a higher grade because he excels at what he does, then fine, I can agree with that. But to my eyes, Eller is just a very good player in a very good role for him. A B+ season is a very good season, and that's what Eller had.