How Well Are The Capitals Goalies Playing This Season?
Let's take a look inside the crease.
In recent days here at Stars and Sticks we have discussed how well the Capitals are playing as a team and which players have been the best throughout the first half of the season. Now we move on to the last line of defense, the goalies.
It's been a bit of a mixed bag for the Caps goalies so far this season. The backup goalie, Ilya Samsonov has played terrifically, putting himself in discussion for more playing time and even end of season awards. The starter, Braden Holtby, has struggled for a good majority of the season. It's bad timing to have a bad season for Holtby considering he needs a new contract from somebody next year and it's looking increasingly unlikely he'll be back in Washington next season.
Holtby's contract is something to be talked about later though. Today we're going to take a look at both the Capitals goalies and see how they are doing stats wise and compare them to each other as well as the other NHL goalies.
I will point this out several times here, but note that I am only talking about goalies who have played at least 1,000 minutes this season. That means we're talking about both the Capitals goalies (obviously) and 49 other goalies around the league. Holtby has played 1885:01 and Samsonov has played 1075:05.
We'll start simple, the win-loss record. Braden Holtby even given his struggles is still 18-9-4 this season for Washington. Samsonov is 15-2-1.
From here on out you'll start to see a big difference in terms of ranking on how well the Capitals goalies have played this season. Holtby has a 3.09 goals against average so far this season, out of the 51 goalies who have played 1K minutes or more that ranks 41st. Samsonov on the other hand has a 2.06 GAA and that ranks at the very top, 1st.
As you might guess the save percentage reflects the numbers we just showed you. Holtby ranks 44th in save percentage at .897% and Samsonov is towards the top again, being 3rd with a save percentage of .927%.
Holtby has failed to register a shutout so far this season while Samsonov has backstopped the Caps to one clean sheet.
Holtby has allowed 97 goals on 944 shots, and the backup Samsonov has been beaten 37 times on 508 attempts.
There has been some talk that the team doesn't play as well in front of Holtby as they do with Samsonov in net. I personally don't see a huge difference. What I'm seeing is Samsonov is making more big saves than Holtby. It happens, Holtby is in a bit of a funk and he's having trouble bailing his team out. That doesn't mean he can't make saves, Samsonov is just making more big stops.
The next few stats will, I think, back this up a bit. It will show more pressure on Holtby, but not very much. Average shots per game against shows Holtby faces nearly two more shots a game. He faces 28.63 shots a game while Samsonov faces 26.73 per game.
Holtby also faces slightly more high danger shots a game. He sees 7.60 high danger shots per game while Samsonov sees exactly seven a game. The high danger save percentage is the difference here. Holtby's save percentage is .773%, that ranks 45th out of the 51 goalies and Samsonov ranks 17th with a .820 high danger save percentage.
Holtby has seen 251 high danger shots and has allowed 57 goals and Samsonov has allowed 24 goals on 133 high danger shots.
The next two numbers will also points out how both of these goalies are playing and how one is struggling while the other is excelling. GSAA, or goals saved above average. If you want to know how this stats works just click HERE, right here, and right about now. 
Bottom line the higher the number the better, if you're in the negatives it's no good. How many goals do you save over the average goalie in the NHL?
Samsonov is very good in the stat, out of the goalies to play 1,000 minutes or more he ranks 11th with 9.23 GSAA. Holtby is not good here. He ranks 47th of the 51 goalies with a -10.57 GSAA. You can also break this down into high danger GSAA if you'd like. Samsonov is 1.09 which is 24th out of the 51 goalies and Holtby is -9.66 which is 48th.
One more stat I found that is interesting, although I'm not sure how accurate it is, so take it with a grain of salt. Average shot distance and average goal distance. In terms of shot distance Holtby has nearly a foot advantage. His average shot distance is 36.89, while Samsonov's is 36.10. Goal distance is also favoring Samsonov. The average goal distance for the rookie is 18.92 while Holtby's goal distance is 20.73. That means Holtby is getting beat further out.
Again, take those stats for whatever you want. Can mean something or absolutely nothing, depends on how you want to view it.
After seeing all these stats and after watching this Capitals team for the last three months it's pretty clear. Holtby is not his Vezina or top five goalie self. Samsonov has answered every question he's been asked with top grades. He's passed with flying colors and in a time where the position is uncertain for the future he's given both the franchise and the fan base a huge amount of hope.
There is talk among some fans of trading Holtby, that's ridiculous. The Capitals want to win the Stanley Cup, they have a Stanley Cup winning goalie in the house. In my eyes you never trade that. He's having a rough season but he has plenty of time to pick it up. The Capitals are going to need Holtby in the playoffs.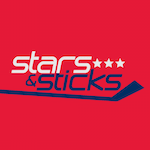 Want your voice heard? Join the Stars And Sticks team!
Write for us!
Samsonov on the other hand is a huge bonus. If Holtby can't figure it out then you can go to him and hope the pressure isn't too big for the young man. Holtby is the present, Samsonov is the future. I highly, highly doubt Holtby is going anywhere, at least this season.
If or once Holtby figures it out the Capitals will have two great goalies and a great team in front of them. This has the chance to be a very successful season in Washington. For it to end in some hardware the Capitals are going to need both of their goalies to play well.