Revisiting Capitals vs Penguins 2009 Dueling Hat Trick Game
Let's take a look back at one of the greatest Washington Capitals games of all time.
With no live sports on these days it will force some of us to find some other ways to watch the games we love. For hockey and Capitals fans we can go back and watch some of the most fun games in team history.
Most will go back and re-watch the run to the Stanley Cup in 2018. Rightfully so, It's the top moment in Capitals history, why not watch those games. There are plenty of other great games out there though and we'll go ahead and revisit a game that, in my mind, is one of the better games in NHL history.
The dueling hat trick game, Capitals vs Penguins, Crosby vs Ovechkin, game 2 from 2009. The rivalry between these two was so big and this was the first time they went head to head in a playoff series. They did not disappoint, and this game was and is the high point of their rivalry in my opinion.
I'll go over the game with some highlights and maybe give you some memories of this awesome game and moment.
The broadcast starts with interviews from the two stars. The first being Crosby, who says that a key to winning Game 2 will be to get the power play going. Ovechkin then says that he likes how his team won Game 1 without being at their best.
The Penguins start the game well, they play physical and that leads some chances, nothing incredibly dangerous but still a chance. The line match-up for most of this game is Crosby with Bill Guerin and Chris Kunitz going up against Brooks Laich with Matt Bradley and David Steckel.
On the first shift Mike Green tries to get a puck deep and center ice, he fails however, gets hit and knocked over by Crosby that sets up a 2 on 1 with Guerin. The veteran cannot direct 87's pass behind Varlamov who starts in net for the Capitals.
Ovechkin gets the first chance for the Capitals the very next shift. He's playing with Sergei Federov and Viktor Kozlov. Fedorov had a shot blocked from the top of the circles after a pass from Kozlov and Ovechkin deflected it and Fleury had to make a pad save.
I'll just say this now so I don't have to repeat it. Both of the top lines play well, both spend more time in the attacking zone and create plenty of chances. Ovechkin, by the way, hits pretty much everything in sight. Something he doesn't do quite as much anymore.
About four minutes into the first frame, Kunitz and Guerin force a turnover from Shaone Morrisonn, Guerin at the goal line to Varly's right gets the puck to Crosby in the slot, his shot gets broken up by Laich who hits him from behind.
Near the 5:30 mark of the first, future Capitals defenseman Brooks Orpik gets in a scrap with Alexander Semin. Both go to the box after their little fits, Semin gets four minutes, Orpik gets two.
Pittsburgh sends out Crosby, Malkin, Guerin, Letang and Gonchar on their first power play. Laich loses his stick and the Penguins try to pick on him at the point. Gonchar eventually shoots it, low and hard and a rebound is the result where Crosby knocks it in.
1-0 Penguins, 6:38 in.
Less than a minute later Jordan Staal takes a charging penalty and the Capitals get a power play of their own. The Caps send out Ovechkin, Backstrom, Kozlov, Fleischmann and Green. Not to much to mention on the power play, just one you could call a chance.
Not long after that penalty, Steckel gets behind the D and gets a short breakaway. Letang trips him and is sent to the box. It should be noted this is a clear penalty today. But then, he got the puck first it looked like before he tripped Steckel. So this was a debatable call. The Caps send out the same unit with the exception being Semin replacing Kozlov.
At the end of the power play Fedorov rips one from the left circle but he ends up missing the net which rims around to Letang who has just come out of the box. He now has a breakaway but can't bury it. I'm unsure if Varlamov gets a piece of it or if he just missed. No clear replay shows what happened. There were no chances on that Capitals power play.
Ovechkin and his line continue to get zone time and chances against Staal, Kennedy and Cooke.
Guerin gets a slashing penalty on Steckel, Letang then knocks a puck away from Chris Clark after the play and Clark elbows Letang. This leading to Bruce Boudreau saying that special team will continue to be a factor if they "keep being stupid" and take retaliation penalties. 4v4 is the result.
Tom Poti takes a penalty on Crosby interfering with him after he chips a puck in. Soft call honestly. That wasn't interference, Sid didn't even do much to get around him, likely not expecting a call himself.
While on the penalty kill Mike Green takes another penalty tripping, almost slew footing Guerin. 5v3 for Pittsburgh.
While 5v3 Guerin sends a pass cross-crease to Crosby who has a slam dunk denied by Varlamov. The rebound goes out to Gonchar who blasts one but Varlamov gets his glove on it and sends it over the goals.
After the power plays end, the Capitals get the puck deep, Backstrom ends up getting the puck and gets it to Ovechkin coming in the zone fast and hard. He does a terrific deke and gets a soft backhand shot to Fleury but it's saved.
The first period ends about twenty seconds later. Crosby and his Penguins lead 1-0 after his sixth goal of the playoffs, Ovechkin has five shots and one hit. He had way more than one hit by the way.
The first great chance of the second period comes after a dump in from the Capitals, Backstrom gets the puck to Semin a few feet from the goal. He again, either misses or gets the shot blocked. Again no replay to confirm what happened.
Nice Capitals play from start to finish here. Jurcina gets the puck to Kozlov who gets it to a supporting Fedorov who goes up the right-wing. Kozlov then goes up the center. Fedorov curls back after getting into the zone and drawing to Penguins to him, he gets it to Kozlov in the middle who slides it to Ovechkin on the left who hammers a one-timer past Fleury.
1-1, Ovechkin, 2:18 into the second.
At about 3:30 into the second Dupuis tosses a puck over the glass for a delay of game. The Capitals send out the same top PP unit to start. A couple of chances on the power play, Semin send a pass cross-ice to Green who then misses the net. About halfway through the power play, Ovechkin gets a one-timer from his spot gloved. No goals on the power play.
Malkin has been quiet this game, but a nice play from him and number 17 Petr Sykora and Malkin gets off a dangerous shot. Varlamov looked behind him after the save.
Kozlov and Fedorov combine for a nice chance a bit later, Kozlov slides a puck into the high slot that Fedorov gets to, he misses the net.
Green gets a shot blocked at about the halfway point of the period. The shot goes off either Kris Letang or Matt Bradley out front and lands in the slot that Laich skates into. Fleury is aggressive and makes a great save.
Starting with 9:15 left in the second, Green has a pretty good clearing chance but fails thanks to Kunitz gloving it down. The puck makes its way to the far side boards where Guerin shoots an innocent looking shot. It bounces around for a second, Crosby got inside position on Green and he again bangs it home.
2-1 Penguins, Crosby's second, 10:57 into the second.
Ovechkin is shooting almost everything at this point.
Malkin has another good chances but again is bested by Varlamov. Fleischmann fell asleep on the far side coverage and Malkin had a clear lane with speed. Right after, Malkin gets the puck behind the net and he sets up Fedotentko who gets a shot off while falling. Varlamov is scrambling but still stops the shot. All this then leads to a chance for the Capitals who get a chance via Backstrom on the rush after a Fleischmann pass. He either missed or it got saved. Replays apparently non-existent in 2009.
Staal then gets a chance a few minutes later after a shot gets saved but a rebound causes some chaos. Cooke gets the puck behind the net who gets it back to Staal right in front of Varlamov who robs Staal with the right pad.
Big number 71 on Pittsburgh is now warming to the task, getting chances of his own and setting up chances. He's all over the place in some of his shifts here in the second period.
With 4:15 left in the second Brian Pothier gets a shot blocked at the blueline, Laich gets it back to Tyler Sloan who shoots it. I believe that shot goes off of Matt Bradley who is in front of the net with Letang, the puck goes right to Steckel who is uncovered to the left of Fleury and he puts it in.
2-2, 15:49 into the second.
Just less than two minutes Kunitz takes a cross checking penalty on Ovechkin near center ice. Ovechkin really sold this call, but he gives his team the power play regardless. No chances came from the power play which will go into the third period.
Varlamov was awesome that period. Ovechkin has nine shots on goal.
The power play ends not long into the third period. Pittsburgh answers with strong shifts and zone time from the 87 and 71 lines. Ovechkin and his line then come on the ice, Ovechkin does a quick move then fires a hard wrist shot from the high slot, gloved by Fleury.
A Morrisonn pinch leads to a 2 on 1 for Talbot and Dupius vs Green. Green breaks up the pass. That happens at the 6-minute mark.
The Capitals get their own 2 on 1 with Semin and Fleischmann. Semin does not pass it, Fleury has a nice stand up save. We're about nine minutes into the third.
Pittsburgh is getting more of the zone time in the third period so far.
Play is stopped with 9:11 left in the period due to a penalty call on Jurcina for interference on Malkin after knocking him down to the left of Varly. It's a great penalty kill, no chances against and Malkin takes a tripping penalty on Steckel right after the penalty expires, 7:11 left.
The Capitals power play wastes little time. Backstrom kicks a faceoff to Green behind him, Green softly slides a pass to Ovechkin who is back peddling and Ovechkin just obliterates one past Fleury.
3-2 Washington, Ovechkin's second. 12:53 into the third.
Ovechkin doesn't wait to long to get that hat trick. After a faceoff right in front of the Capitals bench a puck battle ensues, Kozlov is able to get the puck to Ovechkin who is off. He puts a couple of moves on Gonchar then rips a wrister past him and Fleury.
4-2, Ovechkin hat trick. 15:22 into the third.
There is a bit of a delay to clean up the hats. MVP chants come from the crowd, Ovechkin sings along to "the hey song" saying "you suck" on cue. It's Ovechkin's first career playoff hat trick. He has 12 shots at this point.
Boyd Gordan, Fedotenko, Semin and Orpik all jostle for a loose puck on the boards that kills a bunch of time. Useful since the Capitals have a two-goal lead late.
With less than two minutes left in the third Jurcina cross-checks Crosby into the side of the goal which dislodges the goal and Jurcina has a seat for two minutes.
The Penguins net is now empty, we play 6 on 4. About one minute into the power play Malkin softly shoots a puck into the net area which causes a big scramble. Varlamov gets a little out of position. Malkin gets the puck back behind the goal and gives it to Crosby to the left of the goaltender. Crosby gets four or five whacks at it until he eventually baseball swings it in.
4-3, Crosby's hat trick. 30.4 seconds left in the game.
The game ends with no more chances, and no more goals. The Capitals win and take a 2-0 series lead heading to Pittsburgh. They unfortunately lose four of the next five games in the series and lose the series in 7 games.
Ovechkin's hat trick was the first Capitals playoff hat trick since 1993. Crosby also got the first Penguins playoff hat trick in ten years.
Fleury finished the game with 29 saves, Varlamov finished with 33 saves, plenty of those saves were very, very good stops.
If you're a newer hockey and Capitals fan you have to watch this game if you haven't already. If you're an older Caps fan, go back and watch it if you can. The sports two biggest stars went head to head and both had hat tricks. It will be a long, long time before we see something like this again.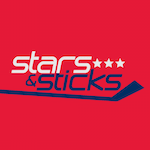 Want your voice heard? Join the Stars And Sticks team!
Write for us!
It's rare to get two hat tricks in a game period. To have the games two best players do it in the same game is a thing only stories are made of. For Capitals fans, it makes it even better their team won the game.
With no hockey on, the only thing we can do is go back and watch some of the great games from the past. This is a heck of a game to start with.