Capitals defeat Senators with Alex Ovechkin and T.J. Oshie scoring twice
The Washington Capitals gave up an early goal in the first period, then put the pedal to the medal with six unanswered goals.
The Washington Capitals avoided the trap game with a 6-1 win over the Ottawa Senators on Tuesday night at Capital One Arena thanks to two goals from both Alex Ovechkin and T.J. Oshie.
The Senators struck first with Artem Anisomov finishing a 2-on-1 rush at 5:40 to give the Senators a 1-0 lead. That was all the scoring in an otherwise quiet first period with the Caps having the edge in shots 13-8. Was it a letdown after a thrilling comeback win two days prior? Nope, the Caps proved this wouldn't be a trap game.
Oshie got the Caps on the board at 1:19 with a shot right in front of the net to beat goaltender Craig Anderson and cue the Caps fans to sing along to Country Roads. Of course it was Jakub Vrana with the assist. Who else, right?
At 8:32 the Caps took the lead on a downtown slapshot from Radko Gudas. Evgeny Kuznetsov and Michal Kempny provided the helpers. It was Gudas' second goal of the season.
Alex Ovechkin hit the quarter century mark on goals scored at 17:15 just moments after an initial goal by him was waved off. The official said it didn't cross the goal line but replay from the tape looked otherwise. Even so, this one counted and Ovechkin pointed to the net in his celly.
The Caps took a 3-1 lead into the second intermission and outshot the Senators 15-7.
The scoring barrage continued in the third with Oshie scoring his second of the game banging home a great pass from Nicklas Backstrom. John Carlson had the secondary assist for his 40th. Oshie now has 18 goals on the season and has a chance to secure the final spot at the All Star Game if the fans vote him in.
Lars Eller joined the party at 2:08 with a slam dunk in front of the net off a pass from Jonas Siegenthaler. Richard Panik had the secondary assist. Eller, the overtime hero from the win over the Sharks, now has 11 goals on the season.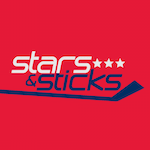 Want your voice heard? Join the Stars And Sticks team!
Write for us!
Ovechkin capped off the scoring at 16:19 with a shot not only from his office but from next to his chair on his knees. It was a historic goal in several ways. Ovechkin's goal was his 684th, tying him with Teemu Selanne for 11th on the NHL's all-time list.
Now they have a quick turnaround as they head up to Philadelphia to face the Flyers on Wednesday Night Hockey. Puck drop is at 7:30 p.m.