Alex Ovechkin notches a hat trick as Capitals down Devils
The Washington Capitals got their redemption on home ice with a 5-2 win over the New Jersey Devils behind none other than Alex Ovechkin himself.
Alex Ovechkin had another memorable game with not only scoring his 30th goal of the season but a hat trick and goal behind a Penguins legend to boot. The Washington Capitals came out firing in the first period and things started out a bit frustrating.
First there was a ding off a cross bar, then a goal by Carl Hagelin was overturned for offsides. Then things escalated when Miles Wood high sticked Ovechkin in the face, with no call and plenty of blood. Ovechkin was angry, as he should be and took out that frustration in one of his best games of the season.
The Capitals were granted a power play later on that turned into a five-on-three and who else but an Ovechkin one-timer from the office at 15:17 to get the scoring started. Ovechkin added another for his 30th of the year from the left face-off circle with 52 seconds to go in the first to give the Capitals a 2-0 cushion heading into the first intermission with a 15-9 edge in shots.
Remember how Hagelin got denied a goal in the previous period? In the second just 16 seconds in Hagelin with a bang in right in front of the net for his second of the season. Count that one.
At 1:08 the Devils got on the board with a goal from Wayne Simmonds. 3-1 would be the score heading into the final period with the Caps once again leading in shots 15-13.
In the third the Devils inched closer with a goal from Blake Coleman shorthanded at 3:34. It looked like the momentum would switch right back to the Devils with the Caps holding just a one-goal lead.
Jakub Vrana has heated up lately and he added his 21st goal of the season to give the Caps insurance at 6:42 from banging home a rebound off a pass while driving to the net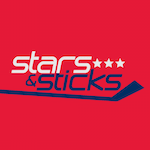 Want your voice heard? Join the Stars And Sticks team!
Write for us!
Ovechkin completed the hat trick at 15:42 for his 31st of the season thanks to a great drive to the net to finish off a killer backhanded pass from Tom Wilson.
Ovechkin now has 15 consecutive seasons with at least 30 or more goals scored which ties an NHL record for most seasons to begin a career.
It was also Ovechkin's 639th career goal which is two shy of passing Mario Lemieux. He could reach it as soon as Saturday afternoon when the Capitals take on the Islanders.