Washington Capitals: Andre Burakovsky's Curious Case
It's tough to find a more polarizing figure on the Washington Capitals roster. The reason, is that no one knows exactly who Andre Burakovsky is.
Is Andre Burakovsky the player that can score a clutch Game 7 goal and dominate possession on the third line? Or is he the player that can look lost defensively and not make an impact offensively for long stretches?
The difficult answer is he's both of those players.
At 23 years of age, Burakovsky capped his fifth season in the NHL with his third straight 12 goal season. He had 25 points in each of his last two years.
In each year except for the 2018-19 season, he was a positive possession player, with no worse than a 51.5 percent Corsi For. Paired mostly with Lars Eller and Brett Connolly on the third line this year, Burakovsky has been an interesting case study for Capitals fans over recent years.
His skillset is why some fall in love with his game, and why others can't understand how he hasn't had a breakout season. It's a double edged sword, one that perplexes and stifles the most ardent of supporters.
So, what can be expected of Burakovsky?
The hope, clearly, is that he'll continue to improve offensively and defensively as his 24-year old career progresses. But he's a restricted free agent, and he surely isn't the Capitals first choice of RFA's to take care off.
The Capitals signed Burakovsky to a two-year, six million dollar bridge contract two years ago to take him to what some thought could be Burakovsky's big pay day.
But with 25 points in each of his last two seasons, it's likely he isn't going to re-sign for the big contract he had originally hoped for.
While Burakovsky, who was dangled as trade bait over the course of the season, hasn't put up the numbers expected of him, a large reason he could be back is his status as an RFA.
He must be offered a qualifying offer, which means the Capitals must offer him a one year deal worth three million dollars, a match to his current salary.
If he's not offered a qualifying offer, which is entirely possible, he becomes an unrestricted free agent. That opens up the possibility to sign him for cheaper than what he's previously made, but also takes away some of the Capitals leverage, as he won't be able to be lost for draft picks.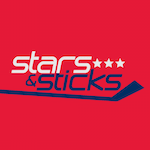 Want your voice heard? Join the Stars And Sticks team!
Write for us!
Should he sign elsewhere, after being qualified, he'll likely net the Capitals some nice draft compensation, depending on how much he signs for.
But is that a good thing? Well, it's all in the eye of the beholder.
The Capitals could re-sign him, trade him for picks, attach him in a trade as a salary dump, or non-tender him and let him walk. And whatever the case is, it'll elicit a response.
Washington won't have a ton of cap space this offseason, and Jakub Vrana and Christian Djoos will clearly be the first and second options of RFAs. Add in Connolly, and Carl Hagelin, and Chandler Stephenson, and you've got a team that just can't fit everybody onboard.
So, all options are on the table for Burakovsky this summer. He could end up a Capital once again, or he could spend his winter somewhere else next year.
And depending on how you view Andre Burakovsky: Under-utilized offensive weapon, waiting to break out; or a defensive liability with a tendency to disappear, that's either a good or a bad thing.