Washington Capitals: A Big Decision Looming for Brooks Orpik
It's a summer of uncertainty not only for the Washington Capitals but for Brooks Orpik.
Washington Capitals 38-year old defenseman Brooks Orpik has had a storied career in the NHL. From beginning his career with the Pittsburgh Penguins to the dog days of playing hockey as a member of the Capitals, Orpik has had a proud legacy.
Not only has Orpik seen the best of both worlds in winning a Stanley Cup with both clubs but he's left a lasting impression among teammates both young and old.
So that's pretty much the decision, do you want to hang up your skates or do you want to return next season and continue to be that veteran presence in the Capitals locker room that everyone looks up to?
On the surface that looks like a very wild summer coming up but for Orpik the old wild thing coming up that he's worried about is his family's trip to Disney World.
Who could fault him for that though? That family portrait with Mickey Mouse is going to matter more than any currency on a contract.
His summer was more wild last year. The Capitals traded him and Philipp Grubauer to the Colorado Avalanche to clear up $5.5 million in cap space to re-sign John Carlson. Then he was bought out by the Avalanche and came back to the Capitals.
Now with an early playoff exit and none of that trade/buyout silliness, it makes sense Orpik wants to take his time and enjoy the rides at Disney with his wife Erin and his daughters Harlow and Brooklyn.
This year offseason priority number one for the Capitals is to re-sign Jakub Vrana. Whether the top-six young buck gets a big payday or a bridge deal remains to be seen.
Once that happens, do you try to re-sign or are you able to afford Carl Hagelin, Brett Connolly, and/or Andre Burakovsky? These questions will be much easier said than done.
From the business/financial side as well as looking back at Orpik's career and legacy it makes sense that the hero from Game 2 of the 2018 Stanley Cup Finals should hang up his skates. Remember that goal? Ah ugly-yet-so-beautiful clutch goals.
But watch or listen to any Capitals interview from other players. They love Orpik in the locker room so much and they want their "Batya" (Orpik's nickname from teammates) back for another crack at the Stanley Cup.
"It's hard to put into words what a guy like that means to a team… He's best friends with the 19-year old, he's best friends with the 35-year old. It's just who he is. He's one of those guys on the team who makes it fun coming to the rink," said Tom Wilson.
No matter what Orpik decides, there's a good sense that even if he does retire he might not be done with hockey quite yet.
Maybe one day he will coach a high school or college team. Maybe he'll return to the Capitals or another NHL team to be an assistant coach or mentor figure. Head coach down the line? Maybe.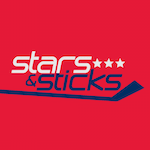 Want your voice heard? Join the Stars And Sticks team!
Write for us!
Speaking of school, maybe he'll go back to Boston College to complete his degree in communications.
But right now and even after the decision on whether to keep playing or retire, Brooks Orpik is a husband and a father. In the end, family is what matters most.