Washington Capitals Report Card: Brett Connolly
Washington Capitals right wing Brett Connolly had a career year in 2018-19.
It seems like Brett Connolly always outdid himself in each of his three seasons as a member of the Washington Capitals. His third and final season on his contract before he enters the summer as an unrestricted free agent (UFA) was his best to date.
Connolly posted a career-high 46 points in 2018-19, 19 more than the previous year. Additionally, Connolly also had career-highs with 22 goals and 24 assists.
Connolly added two goals in the playoffs and although there could've been improvement, losing is a team effort. Even Alex Ovechkin himself, who led the Capitals in scoring, said he still could've played better.
Connolly is one of those players that isn't quite an Ovechkin or Nicklas Backstrom but that doesn't mean he wasn't the glue that kept the forward corps together.
His consistency and reliability was crucial. Connolly could be placed anywhere in the top-six or bottom-six and make an impact no matter who his line mates are. That's a quality not many players have.
Remember, Connolly enters this summer as a UFA and just recently turned 27-years old. He's still in the early stages of his prime.
Connolly was drafted in 2011 by the Tampa Bay Lightning and although he was having his best season in 2014-15 with 12 goals, he was traded to the Boston Bruins and was rarely used in their lineup.
Connolly played in 71 games the following season before signing with the Capitals in July of 2016 as a free agent. Like players such as Michal Kempny, Connolly himself had a career resurgence in Washington.
With a pair of 15-goal seasons and a career-high 22-goal season the following year to boot, Connolly's career has steadily progressed upward.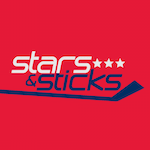 Want your voice heard? Join the Stars And Sticks team!
Write for us!
Grade A: Brett Connolly not only performed well but lived up to his full potential. There was clearly something the Washington Capitals scouting department saw in him that the Bruins and Lightning didn't.
Connolly's future is unknown. If he was to not return with the Capitals, it has nothing to do with playing favorites but more on the "sports is a business" argument which is kind of sad but true.
Connolly gets an A because of the reliability and consistency that he showed in 2018-19 and he was also one of seven Capitals players that scored 20 or more goals that season.
Connolly's free agency storyline will be an interesting one to follow this summer. No matter what happens, Connolly will always be a Capital in the hearts of fans.