Washington Capitals Report Card: Braden Holtby
Washington Capitals netminder Braden Holtby is coming off another stellar season as one of the best NHL goalies.
Braden Holtby was in elite company again this year as a Vezina Trophy finalist. Unfortunately a lucky Justin Williams goal ended Holtby's in unfortunate matter.
Holtby started 59 games this year, and maintained a .911% save percentage with a goals against average of 2.82. Holtby was the true backbone of the team this year who carried another heavy load of games with Phoenix Copley in his first year of NHL development sitting behind him.
Holtby had an outstanding record of 32-19-5. His clutch play came in handy this year with a lot of new faces on the team, and with a lot of injuries throughout the season.
Holtby stood tall of all 1,795 shots total this season second most he's seen in an entire season. He proved why he's one of the best in league this year.
Holtby also made his second straight all-star appearance with his elite performance. Luckily unlike last year after the app-star game Holtby's play didn't decline, but just got better throughout the season.
Holtby' only lack of production came in the shutout category. Holtby only had three shutouts throughout the year. Three was an improvement than last year where Holtby didn't have a single shutout. Back in the 2016-2017 season Holtby had nine shutouts. With the group of younger defensemen with more experience next year should help Holtby have more shutouts nexts season.
Holtby is going into next year on his final year on his contract, and with the future expansion draft for the Seattle team Holtby could be playing his final season next year in Washington. The Capitals did use a first round pick in 2015 on Russian goalie Ilya Samsonov, and he could be Holtby's replacement.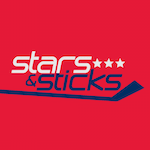 Want your voice heard? Join the Stars And Sticks team!
Write for us!
For next season Holtby's goal should be as it is every year, and that is looking to help lead his team to another Stanley Cup. The goalie position wins championships in the NHL today. Holtby is one of the best butterfly goalies in the league with excellent angles, poise and one of the best puck handling goalies in the league.
Grade: My overall grade on Braden this season is an A. Ever since getting called up from the Hershey Bears, Holtby has been one of the NHL's best goalies year in and year out. Holtby next season will hopefully have over five shutouts, a save percentage above 91% and a solid goals against of 2.5. Overall this year was another great year for the Holtbeast.