Washington Capitals: A look back at Matt Niskanen's tenure in D.C.
Matt Niskanen's arrival in D.C. signaled a culture change.
While sometimes "culture" is a word used to cover-up various other flaws (of which the Washington Capitals had many at the time), they truly needed a shock to the system.
The Capitals missed the playoffs in the 2013-2014 season on the back of a fluttering defense and inconsistent offensive attack. The end result was the dismissal of general manager George McPhee and head coach Adam Oates and a barrel of questions about the future of the franchise.
After Brian MacLellan replaced the former and Barry Trotz replaced the latter, the two set out to fix the Capitals defense. One of the first moves was to sign former Pittsburgh defenseman Matt Niskanen to a seven-year, 40.25 million dollar deal in D.C. Along with Brooks Orpik and new assistant coach Todd Reirden, the Capitals defense improved from 22nd in the league in goals allowed in 2014 to sixth in 2015.
Clearly, Niskanen cannot alone be credited with the turnaround. But in the three-year stretch from 2014/15-2016-17, out of 50 eligible skaters (who skated more than 50 minutes of time on ice) he placed 14th in Corsi percentage (52.37) and 16th in Expected Goals percent (52.23) while almost exclusively facing other team's top pairings.
In Washington, Niskanen did exactly what he was supposed to do.
Reporters have lauded his ability to speak bluntly about the Capitals problems or mistakes after a loss. Coaches have, too.
"He just adds so much in terms of being able to help young players develop,'' first-year Capitals head coach Todd Reirden said of Niskanen in November. "I've seen it here and in my prior location, the role that he's had in the development of some really good young defensemen. He has a calming influence with how he plays the game. He plays it right and is able to add both offensively and defensively.'"
Niskanen's stint in Washington, book-ended by stops in Pittsburgh and Philadelphia, will assuredly make well wishes more tempered than they might have been. But it's hard to overstate how much the Capitals needed a player like Niskanen at the time they needed.
We'll talk about the drop-off in a moment, but Niskanen's five-year tenure is the start of what will become an increasingly likely send-off for the 2018 Stanley Cup Champions.
Last season, the Capitals bid adieu to Barry Trotz and Jay Beagle after the Cup run but kept the unit, for the most part, completely intact. Now, there's questions about who will be back for the 2019-2020 campaign.
Andre Burakovsky and Brett Connolly are both up for contract renewals, as is Jakub Vrana and Christian Djoos. While it's likely that at least two, and perhaps even three, of them will return, the Stanley Cup Champion Capitals will slowly fade into the distance.
The sobering part is this: The Capitals had to trade Niskanen, and not just because his contract was prohibitive to other signings.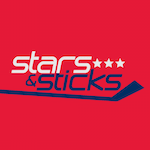 Want your voice heard? Join the Stars And Sticks team!
Write for us!
Niskanen took a clear step back in the previous two seasons, and with two more years left on his deal, it didn't make a ton of sense to keep around, especially with a more affordable Nick Jensen waiting in the wings.
In 2017/18 and 2018/19, Niskanen placed 18th on the team (of 30 skaters) with a 47.79 Corsi For percentage. His Expected Goals percentage was 46.57, 18th on the team in that time frame. Niskanen was getting worse, and the Capitals couldn't afford to stick around and wait to see if he could turn it around.
The trade saves a little cap space this season (3.4 million) and 5.75 next offseason, when Nicklas Backstrom and Braden Holtby are due for new contracts. The Capitals will likely only be able to keep one, but it opens up the possibility of keeping both, at the very least.
Radko Gudas, while known for his checkered past, is actually a true defensive defenseman. His offensive prowess isn't that of Niskanen's, but he's an excellent shot suppressor and should provide the snarl on the third-pairing that Brooks Orpik will leave behind. In fact, Gudas is a pretty significant upgrade over Orpik.
So while the Capitals got better in the short-term (and perhaps long-term), we bid farewell to Matt Niskanen, the man who did exactly what he had to do in Washington.
He was a part of four division titles, two President's Trophy's and most importantly, he was a 2018 Stanley Cup Champion on a team that likely doesn't reach the pinnacle without him.