Washington Capitals Brooks Orpik finally hangs up his skates
Washington Capitals defenseman Brooks Orpik announced his retirement from the NHL on Tuesday morning.
A defensive force for 15 seasons, Brooks Orpik's career began in Pittsburgh when the Penguins selected him with the 18th pick in the 2000 NHL Entry Draft. There's only two NHL clubs he's ever known and that second club was the Pens biggest rival in the Washington Capitals.
Orpik spent 10-full seasons in the Steel City where he appeared in 703 total games and registered 132 points (13 goals, 119 assists). When Orpik was 29 years of age, Orpik anchored a strong defense that led the Penguins to the Stanley Cup in 2009.
He spent four more seasons in Western, Pennsylvania before he signed a five year deal with the Capitals as an unrestricted free agent on July 1, 2014.
In his five seasons with the Capitals, Orpik averaged 19:01 minutes of ice time, registered 132 points (5 goals, 57 assists), blocked 672 shots and laid out 961 hits in the regular season.
In the playoffs, Orpik was an even greater force to be reckoned with. In 2017-18 in particular, he had a career-best +/- of +17, averaged 16:49 of ice time, made four assists, and scored one of the biggest goals in Capitals franchise history.
With Washington trailing 1-0 in the Stanley Cup Final in a critical Game 2, Orpik got a quick feed from Lars Eller and his shot ricocheted off the elbow Vegas Golden Knights right winger Alex Tuch in a tussle with Brett Connolly. That goal gave the Capitals a 3-1 lead and would go on to be the game-winning goal with the Capitals hanging on for a 3-2 win to take command.
Orpik has also represented Team USA on the international stage with appearances in the IIHF World Junior Championships in 2000, the IIHF Worlds in 2006, as well as the 2010 and 2014 Winter Olympic Games. He has a silver medal with Team USA during their remarkable run when the games were in Vancouver in 2010.
Inside the press release sent out by the Capitals, it included various statements from both the team themselves as well as statements from Alex Ovechkin, Nicklas Backstrom, T.J. Oshie, Tom Wilson and John Carlson.
"On behalf of the entire Washington Capitals organization, we would like to congratulate Brooks on a terrific NHL career. Throughout his tenure in the league, Brooks epitomized leadership and hard work. He had a tremendous influence on his teammates both on and off the ice and was instrumental in helping us capture our first Stanley Cup. We thank Brooks for the impact he had across the organization and the Washington, D.C., community over the course of five seasons and wish him, his wife Erin, and daughters Harlow and Brooklyn all the best."
"Batya was a great leader in our locker room and was so important for us to win our first Stanley Cup. We will miss his presence in the room and on the ice. Not only was he a great leader and a player, but he was a better person. I'm so happy I had a chance to play with him and for our young guys to have had the chance to learn from him. I want to wish him, Erin and his kids the best. We will miss him and the Batya protein shakes!"
"Brooks was one of the best leaders I've had the chance to play with in my career. It is difficult to find a better teammate, and a player who worked harder and enjoyed the game as much as Brooks. We all learned from Brooks and he made his teammates better every day. It was a pleasure playing with him and I wish him and his family all the best."
"Brooks was a great player, leader, warrior and an Olympic silver medalist – the type of guy that would always stick up for his teammates, sacrifice his body and do whatever it takes to win. More importantly, he is a terrific person and a friend. Congrats, Batya, on a long and successful career!"
"Brooks was someone that I looked up to from the first day that he got to D.C. I don't think he ever took a shift off his entire career, nor did he ever take a day off being a great leader. Brooks is truly one of the best in the game of hockey and we will miss having him in our room. Congrats, Orps, and thanks for everything. I'm wishing you, Erin and the girls all the best in the next chapter."
"I had the great opportunity to see up close how impactful Brooks was for our team. Spending time as his defensive partner and playing alongside Brooks was something that I will always cherish. He showed his teammates the importance of hard work, accountability and always being there for your team every time he stepped on the ice. We all learned from Brooks; he was our role model and he made us better. I wish him and his family all the best!"
Stars and Sticks would like to congratulate Orpik for all he's done for the franchise in the last five seasons. He saved a defense that was previously frowned upon, along with Matt Niskanen who was also a free agent signing in that summer of 2014. The evolution all came full circle in the 2017-18 season from not just winning a Cup but helping to mentor the likes of rookies Christian Djoos and Madison Bowey.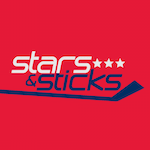 Want your voice heard? Join the Stars And Sticks team!
Write for us!
When the team traded midseason for Michal Kempny and Jakub Jerabek, the defense got stronger and was geared for the Cup run which they rode all the way to June. The formula that won them the Cup was the pairings of Kempny-Carlson up top, Dmitry Orlov-Niskanen in the middle while Orpik was next to Djoos. It was a strong defense that since dominated the Golden Knights after Orpik's Game 2 heroics.
Capitals fans everywhere will miss that veteran presence in the future but rest assured his impact on the franchise will always live on.
Happy trails, BATYA!