Washington Capitals: Brett Connolly finally gets paid
The most difficult part in free agency is saying goodbye to the fan favorites. For Washington Capitals fans, Brett Connolly is one of the latest birds to leave the weagle's nest.
Brett Connolly's career resurgence as a Washington Capitals player is a success story in itself. The former first rounder at sixth overall had great expectations as a member of the Tampa Bay Lightning.
Connolly's first full NHL season came in the midst of a 2014-15 campaign where he scored 12 goals and added 15 points in 50 games. Despite the upward trend, the Lightning dealt him to the Boston Bruins at the trade deadline for two second rounders the following two summers.
In that time period before being a regular in Tampa's lineup, Bolts By the Bay noted that Connolly recorded 52 goals and 68 assists for the Syracuse Crunch. An unsetting midseason trade made things much more difficult for Connolly in his goals for NHL success.
To make matters worse, Connolly suffered a broken finger injury the first month of his first season in Beantown. After a steady 2015-16 season where he recovered to play in 71 games, Connolly posted 25 points (9 goals, 16 assists). Not too shabby, but it wasn't good enough for the Bruins to extend him a qualifying offer (J.J. Regan/NBC Sports Washington).
Despite being a healthy scratch 14 times in the lineup his first season in D.C., Connolly recorded 23 points (15 goals, 8 assists). His role was even greater the next season appearing in 70-games recording 15 goals, 12 assists for 27 points including nine points (6 goals, 3 assists) in the playoffs.
But Connolly was more than just a scoring threat in the bottom-six. Off the ice, he made a new friend with young Caps fan Keelan Moxley. Then a six year old, she just simply wanting a puck from warmups prior to Game 2 of the Capitals first round series against the Columbus Blue Jackets.
As Connolly attempted to fetch Moxley a puck his throws were picked off by a dad, twice, trying to hook up his two sons with a puck. Connolly sensed the sadness across her face and tapped the glass right in front of her.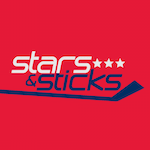 Want your voice heard? Join the Stars And Sticks team!
Write for us!
The dad sensed the body-language, caught the puck and promptly gave it right to Moxley. The smile across her face from the third time being the charm gave her a new favorite player to root for and a new friend for Connolly. The cameras of NBC Sports Washington captured the viral sequence.
Not only did Team Owner and Chairman of Monumental Sports and Entertainment Ted Leonsis extend a personal invitation to the owners box to watch the next home game, a Game 5 overtime win that helped spark a first round turnaround, she took part in the pregame "Let's Go Caps" chant. She additionally was presented signed stick from Connolly and the two met after the game.
Moxley has been present at big Capitals games and when Connolly scored a big goal in Game 4 to help push the Caps to the brink of Stanley Cup glory, the NBC cameras captured Moxley roaring in approval at the top of her lungs.
The very next season saw Connolly reach career-highs and played in 81 of Washington's 82 regular season games scoring 22 goals and 24 assists for 46 points. Connolly scored twice in the first round. One final one in D.C. in a big Game 5 win while recording one in Raleigh in Game 6.
Now he joins a loaded new-look team with the Florida Panthers who just gave Sergei Bobrovsky a massive payday of his own. Connolly will make $14 million for four-seasons, an AAV of $3.5 million. The Capitals face Connolly this upcoming season in Sunrise, Florida on Nov. 7 before Connolly returns to Capital One Arena 20 nights later.
Stars and Sticks would like to say thank you to Brett Connolly for three memorable seasons and wish him the best in Florida.