Washington Capitals make a tough but necessary move with Chandler Stephenson
The Washington Capitals have traded Chandler Stephenson to the Vegas Golden Knights for a fifth round draft pick in 2021.
Washington Capitals senior writer Mike Vogel reported that Chandler Stephenson didn't practice Monday, instead being held by the team for a roster move before Tuesday's game with the San Jose Sharks.
Head coach Todd Reirden built up the suspense by saying that an announcement will come later in the day. TSN's Darren Dreger then reported the news of the trade which came shortly after 10 p.m. If we're talking west coast since the Caps are in California that's shortly after 7.
Losing Chandler Stephenson will be a tough blow in the future. While it could be a regrettable move, it was necessary at this time to allow Nicklas Backstrom and Carl Hagelin to come back to the lineup while staying under the salary cap (ah yes our favorite summer activity of playing on CapFriendly.com).
The Capitals had $2.65 million in available cap space prior to the trade but Carl Hagelin's cap hit carries $2.75 million. That meant a move had to be made to stay under the cap. Now their cap space sits at $746,754.
Hagelin was placed on long term injured reserve which gave the Caps some additional cap space money for the time being since injuries and suspensions come off the books.
Hagelin was sidelined for 11 games and now he'll return to the lineup for Tuesday's game along with Nicklas Backstrom as each progressed in practice over the last few weeks.
Stephenson was selected in the 2012 draft in the third round at 77th overall. His rookie season saw him be a big part of the core that won the Stanley Cup. In the regular season that year Stephenson potted six goals and 12 assists for 18 points. In the playoffs Stephenson added two goals and five assists.
Stephenson had a bit of a down season the next year with five goals and six assists for 11 points. Over the summer he was a restricted free agent and filed for arbitration where the Caps signed Stephenson to a one-year, $1.05 million extension.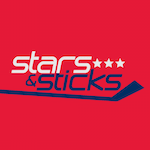 Want your voice heard? Join the Stars And Sticks team!
Write for us!
With two fourth liners acquired in the offseason in Brendan Leipsic and Garnet Hathaway it presented a challenge for Stephenson to get in the lineup but a solid preseason ensured he'd get a roster spot.
Stephenson scored three goals and added an assist in 24 games this season. Definitely a lot better than last season and the Caps will miss the speedy bottom-six forward.