Capitals rule Kings, win fifth straight
John Carlson er I mean, John Norris shined once again for the Washington Capitals.
The defenseman scored twice including his 100th career goal and the Washington Capitals took care of business on the road in a 3-1 win over the Los Angeles Kings.
The win improved Washington's record to 21-4-5 with 47 points, two points ahead of the Boston Bruins for the best record in the NHL.
At 4:36 John Carlson forced a turnover, came down the ice and placed a perfect shot for his 10th goal of the season and 100th of his career.
Carlson added his second of the game at 13:27. In a sequence along the boards, Lars Eller got the puck to T.J. Oshie who then found Carlson with a cross-ice saucer pass. Carlson was in front of the net and he backhanded it in past Kings goaltender Jonathan Quick for his 11th goal of the season.
That was Carlson's 13th multi-point game of the season. With 42 points overall, Carlson is tied with Dennis Potvin (1975-76) and Al MacInnis (1990-91) for second most in NHL history by a defenseman through 30 games.
Alex Ovechkin talked about Carlson on NHL.com's game recap:
"I don't know what to say right now. He's the hottest guy out there. You can see, two highlight-reel goals again, and he's good."
Capitals head coach Todd Reirden added:
"Yeah, it's been fun to watch, certainly. The guys, you know, like to give him a hard time about it, and lots of things have gone his way. That being said, he's earned it, he's worked for it, he deserves it. It's not just the offensive stuff. He's blocking shots, playing rushes early. He's doing it all, obviously."
Carlson is the fifth defenseman in Capitals history to score 100 goals and the 13th American-born defenseman to reach the milestone. He also reached the double digit goal club becoming the sixth player to do it on the Caps this season.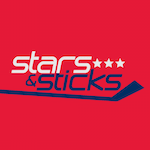 Want your voice heard? Join the Stars And Sticks team!
Write for us!
Shots were even at eight in the first period with the score 2-0 Capitals at the end of the first 20 minutes. The second period was scoreless with the Kings having the edge in shots 10-4. In the third, the Caps outshot the Kings 10-5 and in the end were outshot by one 23-22.
The Kings finally got on the board at 3:20 from Blake Lizotte. Tom Wilson gave the Caps insurance with an empty net goal at 18:41 for his 11th of the season.
The Capitals conclude their road trip with a big rematch with the Anaheim Ducks on Friday night. Puck drop is at 10 p.m.