Capitals fall to Blue Jackets, end winning streak
All good things must come to an end. That's how the old saying goes. For the Washington Capitals, their six game winning streak has come to an end.
The Washington Capitals fell on Monday night to the Columbus Blue Jackets 5-2 on Monday night at Capital One Arena. It was one of those trap games coming off an exhilarating road trip that saw Washington win all four games. The Blue Jackets came to play and the Capitals didn't match their intensity.
The Blue Jackets struck at 3:27 with a deflected goal by Cam Atkinson, deflecting in a shot from Gustav Nyquist. 1-0 was the score after one with the Blue Jackets outshooting the Caps 20-6.
The Blue Jackets doubled their lead at 6:52 in the second period with a goal from Ryan Murray as they continued to dominate play throughout the game. The Caps led in shots 15-6 in the middle stanza but couldn't get anything across as 2-0 would be the score entering the final period.
The Caps finally got on the board 40 seconds into the third period with Alex Ovechkin backhanding in a loose puck from the front of the net for his 21st of the season. Dmitry Orlov and Nicklas Backstrom were credited with the assists. All of a sudden momentum was back with the home team.
That momentum, however, was short lived. The Blue Jackets regained their two-goal cushion with Riley Nash following his own rebound at 6:53. At 10:37, the Blue Jackets made it 4-1 with a goal from Oliver Bjorkstrand.
Late in the third period, the Caps pulled their goalie. On the 6-on-5 attack, Nicklas Backstrom scored his fifth goal of the season in his first game back from an upper body injury that sidelined him for eight games. Backstrom was right in front of the net to snipe it home at 17:54. Ovechkin and Evgeny Kuznetsov had the assists.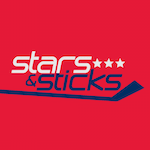 Want your voice heard? Join the Stars And Sticks team!
Write for us!
18 seconds later the momentum was snatched right back as Atkinson sealed the game with an empty net goal. 5-2 would be the final score. The Caps outshot the Blue Jackets 18-12 in the third period and 39-38 overall but it was their slow start in the first two periods that did them in including being outshot 20-6. Braden Holtby made 33 saves for a .892 save percentage.
The Caps will look to bounce back on Wednesday night as they host the Boston Bruins in what will be a big test featuring two of the best teams in the NHL going head to head.