Capitals drop second in a row in loss to Devils
After a tough loss on Wednesday night, the Washington Capitals simply came out flat on Saturday.
The Washington Capitals fell 5-1 with Jakub Vrana scoring the lone goal on Saturday night at Capital One Arena against the underachieving New Jersey Devils.
It was the Devils first win in four games and their victory was highlighted by a two-goal performance from Nico Hischier.
The Devils got on the board at 5:27 with a goal from Hischier driving to the net and outmuscling Richard Panik before firing in the goal. 1-0 was the score after one with the Caps leading in shots 12-8.
At 3:28 in the second the Devils doubled their lead with a rebound goal from Nikita Gusev. At 6:48 Blake Coleman finished a 2-on-1 shorthanded backhander to make the score 3-0 New Jersey.
Nic Dowd told NHL.com after the game:
"I just think our start was bad. I mean, it's our building, we had a Saturday night, lot of energy, and we didn't get the crowd into it too much, which I think is a big thing for our team."
Jakub Vrana finally got the Caps on the board with a rebound goal for his 20th of the season and it was also a rare power play goal for Vrana. John Carlson and Nicklas Backstrom had the helpers.
Hischier added his second goal of the game at 12:11, finishing a one-time blast from the right face-off circle to make it 4-1 and take the air out of the building to quiet the Saturday night crowd.
Vrana told NHL.com:
"I think [our] execution wasn't there today. Lots of bobbled pucks. Lots of missed passes. We weren't really sharp as we normally [are]."
4-1 was the score after two periods. Shots were even at nine in the middle frame.
There wasn't much action in the third period but the Devils added a goal to put the game away from Miles Wood at 15:04.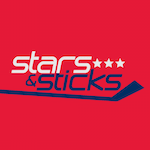 Want your voice heard? Join the Stars And Sticks team!
Write for us!
Capitals coach Todd Reirden added in the same article:
"I just think we're going through a time in the season right now where we're not executing and we're not out-working the opponent. If you're not going to do those things, then you're not going to have success in this league. … That's not acceptable, that type of play. We don't give ourselves a chance to work hard because we don't manage the puck properly."
The Capitals will try again on Monday night against the Carolina Hurricanes. Puck drop from the District is at 7 p.m.