Capitals blank Hurricanes
The Washington Capitals shutout the Carolina Hurricanes 2-0 and Alex Ovechkin continued his climb up the leader board.
Alex Ovechkin scored twice, both in the first period, and the Washington Capitals held off the Carolina Hurricanes for a 2-0 win. It ended Carolina's three-game winning streak.
Ovechkin put the Caps up 1-0 at 11:58 with a great play in front of the net off a set up from Tom Wilson.
The Caps got their third power play of the night shortly after when Dougie Hamilton shot the puck over the glass for a delay of game. It was the third of four penalties in the first period alone. Carolina ended the night with six.
The Caps doubled their lead while on the attack with an Ovechkin shot from the office from downtown. Jakub Vrana and John Carlson had the helpers.
Ovechkin now has 28 goals on the season and 686 in his career. His first goal passed Teemu Selanne for 11th on the NHL all-time goals list. He needs just four to tie Mario Lemieux.
Capitals head Todd Reirden told NHL.com after the game that he had a feeling Ovechkin was going to bring his A-game Monday night:
"He knew tonight was an important game for us, so I thought you saw him go to a different level. To me, that's Alex Ovechkin."
Carlson added in the same story:
"Everything just seems normal with him sometimes, just because he is passing someone and he is always climbing some leaderboard. Maybe you get dull to it a little bit, but you know, certainly some special names that are close and when you look back at it, I think it will be a lot more meaningful for him as well."
Ilya Samsonov stopped 23 shots for his first NHL shutout to improve his record to 13-2-1 with a 2.11 goals-against average and a .925 save percentage.
"He's playing with some confidence right now. He's worked hard in practice, same as [Braden Holtby]. I think we have the best two goalies in the League right now and I think we can see when they feel comfortable, when they feel good, we feel the same."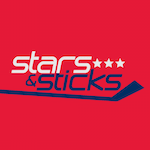 Want your voice heard? Join the Stars And Sticks team!
Write for us!
The Capitals ended a two-game losing streak with the win and will be looking to avenge a Saturday night loss to the Devils when New Jersey comes to town on Thursday night.
In other news, Nicklas Backstrom just got paid and we'll have more on that shortly.