Capitals shake, rattle, and roll past Kings behind clutch Alex Ovechkin hat trick
It went from a night of quietness to euphoria in the span of a few minutes. The Washington Capitals might as well be renamed the Comeback Caps.
Led by none other than the great eight himself, the Washington Capitals overcame a 2-1 third period deficit for a 4-2 win over the Los Angeles Kings on Tuesday night at
Capital One Arena.
It was a natural hat trick in the span of 4:24, three consecutive goals to flip a 2-1 score into 4-2 and send Capitals fans home happy even though many of them once again lost a hat.
In the blink of an eye, the greatest goal scorer of our generation turned the game around and lifted the Caps to a huge win. He now has 40 goals on the season and needs two from 700.
The Kings struck first on a goal from Jeff Carter at 15:03 to go up 1-0, a lead they would carry into the first intermission. The Kings outshot the Capitals in the opening period 8-6.
The Caps tied it at 7:25 in the second period with a goal from John Carlson, his 14th of the year and first goal scored since December 20. It came off a nice shot on a two-on-one rush and a pass from Nicklas Backstrom. Carl Hagelin had the secondary assist.
1-1 was the score heading into the final period. The Caps were outshot 10-6 in the second period.
In the third the Kings took the lead at 11:33 with Carter's second goal of the game. Then with 6:10 to go, the magic of Alex Ovechkin stuck again. He came knocking on the door step past the right blocker of Jonathan Quick to tie the game. T.J. Oshie set up the perfect pass.
Carlson assisted on Ovechkin's last two goals. He gave the Caps the lead with exactly five minutes to go by following his own shot, grabbing his own rebound, being (sorry) too quick for Quick.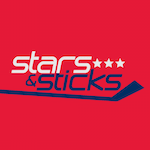 Want your voice heard? Join the Stars And Sticks team!
Write for us!
Ovechkin's third and final goal was a bullseye from downtown for an empty netter with 1:46 left to seal the win and unleash the hats thrown onto the ice. It was his 40th goal of the season and 27th career hat trick as well as the 698th goal of his career. Ovechkin is eighth all time in NHL history in hat tricks and he has four this season which is a career-high.
Now we wait a few days until the next game which will be on Saturday night against the Philadelphia Flyers. Then the Caps host the New York Islanders on Monday. Two home games left on the homestand, two opportunities for Ovechkin to score 700 in front of the fans. Which game will it be.