Capitals fall to Islanders, Ovechkin goes scoreless
Once again the Washington Capitals came up short in Alex Ovechkin's bid for 700.
The Washington Capitals dropped their second game in a row and third of their last four in a 5-3 defeat to the New York Islanders at Capital One Arena.
The Islanders struck first scoring the first two goals, both by Anthony Beauvillier at 3:30 and 6:16, respectively. John Carlson's shot from downtown got the Capitals on the board on a goal that initially looked like it went off Alex Ovechkin at 12:55. It was Carlson's 15th goal of the season off a pass from Nicklas Backstrom.
The Islanders got one back at 18:06 from Devon Toews. 3-1 was the score after 20 while shots on goal were even Steven at 10 apiece.
In the second period it looked like the Islanders would run away with this one. Leo Komarov struck 45 seconds in and Jordan Eberle dented the twine at 10:36. However, as we've learned from watching the Capitals this season there's no quit in this team and they got two back before period's end.
First it was Lars Eller banging in a wraparound play from Carl Hagelin at 11:25 with Michal Kempny picking up the secondary assist. The Caps would later get on the power play for the third time after Scott Mayfield was called for high sticking Garnet Hathaway. Then Oshie would strike from the Ovechkin office at 16:59. Carlson and Backstrom had the helpers.
5-3 was the score after 40. The Islanders outshot the Caps 14-8 but it was 2-2 if you counted just that period. The Caps had some looks in the third and outshot the Islanders 11-8 but it was a relatively quiet third period other than that.
The Islanders outshot the Caps in total 32-29. The Caps had the edge in face-offs 53%-47% and had a power play goal while killing both penalties. A couple of positive takeaways in an otherwise bad game.
Ilya Samsonov allowed those five goals and was pulled from the game in the second period. Braden Holtby came in and stopped all 12 shots he faced from then on out. Samsonov made 15 saves.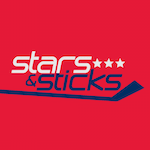 Want your voice heard? Join the Stars And Sticks team!
Write for us!
Ovechkin will have to wait until at least Thursday night to score his 700th goal as the Caps take on the Colorado Avalanche. Islanders coach Barry Trotz kept his former player in check the whole night and told the media (via Harvey Valentine of NHL.com):
"I think we came back and tried to take his time and space. Ovi's so good. He doesn't need much of a window. I've seen it many times. He's going to get 700. It wouldn't have bothered me if he got 700 as long as we won the hockey game. I know he's going to get it, and I'm a big believer he's going to break [Wayne Gretzky's NHL record of 894 goals]. I wish him luck because we don't play them anymore for the rest of the year."
The Caps now embark on a three game west coast trip beginning Thursday night in Colorado and concluding in the desert.