Capitals come back to defeat Avalanche
The Washington Capitals snapped a two-game losing streak with a comeback to defeat the Colorado Avalanche.
The Washington Capitals trailed 2-0 in the first period to the Colorado Avalanche but answered with three straight goals to get payback from an early-season loss.
With plenty of red in Colorado backing them every step of the way, the Capitals overcame that deficit to begin their three-game road trip on the best note.
Andre Burakovsky made his old team pay by scoring the first goal of the game for his 18th of the season. Burakovsky finished an odd man rush and beat Braden Holtby at 2:54.
After T.J. Oshie was called for high sticking at 15:36, the Avalanche doubled their lead at 16:05 with a goal from Mikko Rantanen on the power play. 2-0 was the score after 20 with the Avalanche leading in shots 11-8.
In the second period, the Caps got a power play opportunity at 10:32 when Tyson Jost was whistled for high sticking Nicklas Backstrom. It was none other than Backstrom who made them pay at 11:37 for his 11th goal of the season.
Backstrom banged it in front of the net off a pass from Jakub Vrana. John Carlson was credited with the secondary assist. 2-1 was the score after two with shots even in the middle period at 11.
Todd Reirden told the media after the game (via NHL.com's Rick Sadowski:
"Definitely as the game went on I felt our game kept building and was getting better in all areas. Obviously a lot of guys stepped up and I thought we played way more as a team. We were more connected and in sync tonight after two good days of practice. To pull out a win, coming from behind, it's a big win for our team to start this road trip."
In the third the Caps got another power play opportunity when Burakovsky was called for high sticking Oshie. The Capitals tied it with Tom Wilson deflecting in a shot from Carlson for his 17th goal of the season at 12:48. Lars Eller was credited with the secondary assist.
The Capitals completed the comeback with Oshie scoring the game-winning goal on a deflection with 2:04 to go for his 22nd of the season. Nick Jensen and Eller had the helpers.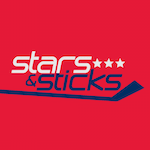 Want your voice heard? Join the Stars And Sticks team!
Write for us!
The Caps outshot the Avalanche a whooping 19-12 in just the third period. They had the edge in shots overall 38-34. Braden Holtby made 32 saves on the 34 shots he faced for a .941 save percentage.
The Caps will head to Arizona to take on the Coyotes on Saturday night. Puck drop is at 10 p.m. eastern time. The Caps extended their Metropolitan Division lead over the second place Pittsburgh Penguins by five points.