Capitals survive in the shootout to get the win 4-3 over Jets
Washington Capitals: After a 3-0 lead, the Winnipeg Jets comeback and Ovi seals it in the shootout.
The Capitals faced the Winnipeg Jets and it was closer than the Capitals wanted it. The Capitals jumped out to a 2-0 lead and would take that lead into the first-intermission.
What else can you say about Alexander Ovechkin. Well, if you have anything other than positive comments, you aren't a hockey fan.
Yet again, Ovechkin scored in the first two minutes. And yes, that's goal no. 701 and the now the chase to 800 goals begins.
With, 9:53 seconds left in the second period Jake the snake 🐍 wrists one pass Brossoit. At this point the Capitals were thrashing all over the Jets as if the plane never landed.
However, with less then a minute left in the second period, Ehlers, scores on the breakaway and cuts the Capitals lead to 3-to-1. You can feel and see the shift in play coming. The Jets started to forecheck the Capitals defensemen and Wingers. They were winning the board battles during their comeback in the later part of the second and just about all of third period.
With less then nine-minutes left the Jets made things way too interesting for Capitals fans and players. Connor scores on a wrist shot that gets pass Braden Holtby and now it's so close for comfort your hearts are beating faster then the person next to you in the arena.
Fans at the arena and on social media we're probably saying, 'No not again.' Well, yes, here we go again. Give up consecutive goals and let a team that is hanging on for dear life come all the way back to steal a point.
While the defense has allot to fix and work out prior to the playoffs, things have looked allot better than they have in the past months or so. Once the defense is fixed, and the scoring keeps up at this pace (the last two games), this team will be a team to be reckoned with.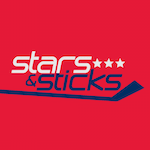 Want your voice heard? Join the Stars And Sticks team!
Write for us!
Lastly, with just 19-games left, Ovechkin is just seven away from yet another 50-goal season. Will he get to 50 or does he get to 60 because it's Ovechkin and he can do whatever he wants. The goat🐐 just keeps on running players over like he's made of steal, which I wish he was made of, so he could just damage others while on the ice. I'm just joking but it sounds like fun.
Next up, guess who, Yep, the Winnipeg Jets. Wonder if they are sharing the same plane for traveling purposes? How would that go if teams actually did that?