Washington Capitals showed up against the Penguins
The Capitals and Nic Dowds 2-goals stun the Penguins again.
One of the better games in a while from the Washington Capitals occurred today against their arch rivals the Pittsburgh Penguins.
In the first period on a sweet pass from Garnet Hathaway to Nic Dowd and he puts it home pass Matt Murray and it's 1-0 early in for Capitals. But, they weren't done.
Jake the snake 🐍 sent a saucer pass to Nicklas Backstrom and he sniped it home top shelf and the Capitals are off and running. One more tally before the end of the first period from Richard Panik as he taps it home on a rebound.
At this point, the Capitals are up 3-0 after one and you can hear the boo birds coming from the fans in the stands.
Honestly, those could have been the boo birds coming from some of the Capitals fans as they show their displeasure towards their arch rival fans.
You can even view tweets of Penguins fans saying, "We suck and I don't see how this team can be ok with this type of play," or "What and the world is going on."
The Capitals were buzzing and it didn't stop on the first period as it has in the past. The period wasn't even one minute old, before Dowd sends a wrist shot past Murray to make it 4-0.
As Dave Martinez, the Manager of the World Series Champions, the Washington Nationals would say, "Boom."
Well, it is the Penguins and you know they won't just sit back and let the Capitals and Braden Holtby shut them out. Crosby would cut into the Capitals lead as he receives a spectacular pass from Sheary that goes through Carlsons legs and pass Holtby's right pad to make it 4-1.
As issues continue for the Capitals on taking dumb penalties. On their fifth power play, the the Penguins make the game interesting as Malkin scores to make it 4-2.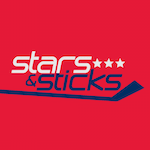 Want your voice heard? Join the Stars And Sticks team!
Write for us!
However, T.J. Oshie would send a wrist shot past Murray to make it 5-2. Oshie should receive himself some donuts 🍩 as he and his daughter, Leni, have an agreement that if he scores a goal he gets a donut.
Lastly, today was the best performance I've seen from the Capitals as a team and from Braden Holtby. He saved 26 of 28. If this is the game that helps them play better as the season goes on, then so be it. Let's get this thing going and do what we know we are supposed to do.