Capitals fall to Blackhawks in NHL 20 simulation
The Washington Capitals looked to build off their overtime win over the Detroit Red Wings but sadly came up short.
The Washington Capitals fought hard in an entertaining NHL 20 simulation to make up for last Saturday's game vs. the Chicago Blackhawks that got postponed. The road team though came out of D.C. with a huge win behind two goals from Patrick Kane.
The Caps wasted no time off the face-off and actually got off to a good start with Evgeny Kuznetsov scoring his 11th goal of the season off a shot right in front of the net to beat Blackhawks starting netminder Corey Crawford. Alex Ovechkin and John Carlson had the helpers.
47 seconds later, Ovechkin doubled Washington's lead to 2-0 with his 36th goal of the season but like we said in our previous NHL 20 game recap, we'll just say it's his 50th goal of the year.
24 seconds later the Blackhawks answered with a goal from Dylan Strome assisted by Brandon Saad and Calvin de Haan. The play was initially waved off for a kicking motion but the referee changed it back to being a good goal. 2-1 was the score after the first 20 minutes with the Caps winning four out of seven face-offs and outshooting the Blackhawks 8-7.
The Blackhawks took over the second period scoring two unanswered goals. First it was Saad at 5:35 to tie the game off a nifty cross-ice pass from Strome.
Patrick Kane would give the Blackhawks the lead at 14:50. His goal was assisted by Erik Gustafsson and Jonathan Toews.
Later in the period, T.J. Oshie was called for hooking and later on the kill Nic Dowd was whistled for tripping putting the Blackhawks on the 5-on-3. The Caps were able to kill it off and hoped to use this momentum for the third period.
3-2 Blackhawks was the score after two with the Caps being outshot by a whooping 30-13 thus far.
The Caps tied the game at 14:42 with Kuznetsov's second goal of the night and 12th of the season with Oshie and John Carlson providing the helpers.
The momentum shifted right back to Chicago after Dmitry Orlov was called for tripping. The Blackhawks took full advantage with a goal from Kirby Dach to give them the lead for good.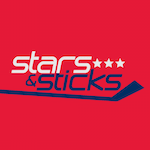 Want your voice heard? Join the Stars And Sticks team!
Write for us!
The Blackhawks put the game away with Kane scoring on an empty netter for his second goal of the night. That sealed the game with the Blackhawks winning 5-3.
Check back tomorrow for a recap on Washington's contest with the