Nick Jensen records a hat trick in Capitals win against Oilers in NHL 20
In our latest NHL 20 simulation, Nick Jensen of the Washington Capitals recorded a hat trick. All in the first period.
The Washington Capitals steamrolled the Edmonton Oilers 4-1 thanks to a four-goal first period.
Nick Jensen got things started right from the get-go and the Caps scored four goals in the opening period to put a flat out assault on the Oilers. I guess they came out pretty angry after that loss to the Blackhawks yesterday.
Both Nicks connected on the first goal with Nicklas Backstrom feeding Jensen at 5:19. Jensen took it down the ice and backhanded it home for his third goal of the season.
Jensen had another great look that he finished at 8:43 with a shot right ahead of the defense with only the goaltender to beat. Tom Wilson and Michal Kempny had the assists.
Jensen made it 3-0 at 11:09 to complete the hat trick. Carl Hagelin and Braden Holtby had the helpers as the hats were unleashed onto the ice.
At 18:14, Backstrom extended Washington's lead to 4-0 with Tom Wilson and Jakub Vrana providing the assists. 4-0 would be the score after 20 with the Caps outshooting the Oilers 10-8.
Braden Holtby stood tall in net and even stopped Connor McDavid on a couple shot attempts but one puck would go past him in the second period with Riley Shehan putting the Oilers on the board at 8:34.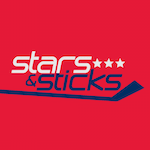 Want your voice heard? Join the Stars And Sticks team!
Write for us!
4-1 was the score after two periods with the Caps leading in shots 17-15. The Capitals held off the Oilers in the third to seal the win. The Caps were outshot overall 33-32 and were outhit 9-8 but dominated on the face-off circle winning 15 draws to Edmonton's seven. Braden Holtby got the win stopping 21 of the 22 shots he faced for a .955 save percentage.
Here's how we're going to do this. We'll keep on doing the game simulation games daily until the dates align with Washington's postponed schedule. Next up will be a road contest tomorrow with the Columbus Blue Jackets. Wednesday we'll see the Ottawa Senators take on the Caps while Thursday we'll treat ourselves to a good old Caps vs. Pens rivalry game.