Capitals and D.C. sports broadcasters launch Voices of D.C. Sports to help feed the District
Some of the best broadcasters in this business reside in D.C. and we are lucky as Washington Capitals fans to have them.
For just a donation of $25 you can get a personal video message from Joe Beninati, John Walton or any of your other favorite Washington Capitals and D.C. sports broadcasters.
There is a total of 14 broadcasters participating in this initiative from the National Hockey League's Washington Capitals, National Basketball Association's Washington Wizards, Major League Soccer's D.C. United, Major League Baseball's Washington Nationals and the National Football League's Washington Redskins made the announcement yesterday.
Fans are encouraged to request video messages from their favorite personalities through the personalized video shoutout platform Cameo. For the $25 donation, the broadcaster of your choice will record a personal video message.
All proceeds will benefit D.C. Central Kitchen, the Capital Area Food Bank and Martha's Table. Fans can make a donation to those charities by texting DCSPORTS to 44321.
Here is a list of the participating broadcasters for each team:
Capitals: Joe Beninati- NBC Sports Washington Capitals play-by-play announcer. Al Koken- NBC Sports Washington Capitals reporter. Alan May- NBC Sports Washington Capitals studio analyst for the pre/postgame shows. John Walton- The voice of the Capitals on the radio
Nationals:
Dave Jageler- Nationals Radio play-by-play announcer
FP Santangelo- MASN Nationals color analyst
Charlie Slowes- Nationals radio play-by-play announcer
Redskins:
Larry Michael- Redskins play-by-play announcer
Wizards:
Caron Butler- NBC Sports Washington Wizards analyst
Glenn Consor- NBC Sports Washington and Wizards Radio analyst
Drew Gooden- NBC Sports Washington color analyst
Dave Johnson- Wizards Radio play-by-play broadcaster and D.C. United play-by-play announcer
Justin Kutcher- NBC Sports Washington Wizards play-by-play announcer.
The best part these broadcasters bring no matter what sport you watch is they bring the experience of the game right to your living room.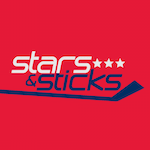 Want your voice heard? Join the Stars And Sticks team!
Write for us!
Now they are here to shed a light of positivity in a time when we are healing and recovering from the novel coronavirus.
Which broadcaster would you want to hear from? Let us know in the comments!
For more information about COVID-19, visit the CDC's website or the website for your state's Department of Health.