Capitals: A Captain appreciation post
The real MVP of the Washington Capitals this season isn't a player or a coach but rather the team dog, Captain.
Unless you've lived under a rock this season you probably already know about the Washington Capitals team dog Captain, who is training to become a new service dog for a veteran.
We first met him moments before the Caps home opener against the Carolina Hurricanes. In the team's annual "Rock the Red Carpet" where players arrive to greet the fans, Alex Ovechkin came out of the car with the new pooch!
Captain was just 10 weeks old when he was introduced to Washington Capitals fans and as you've seen on the @CapsPup twitter account, he's grown since that home opener!
For those that couldn't make the red carpet, fans immediately retweeted the video of the first Tweet to introduce Captain.
"Can I get a WOOF for the Coolest. Job. Ever? I love slick strolls on the ice, warm snuggles on the bench, and treats after a big win. It's been ruff keeping this a secret, but I'm here now and can't wait to play!"
Ovechkin told NBC 4's Sherree Burruss, "I hope he's gonna be a lucky charm for us", while Captain was licking his face. Good boy!
So far Captain has been a good luck charm for the Capitals as they sit in first place in the Metropolitan Division and are determined to keep that spot and make a deep run if and when the hockey season does resume.
Captain will be with the Capitals for 14 to 16 months while in training to become a future service dog for a veteran or first responder with a disability, per the team. Once he's done training he'll go up to Smithtown, New York to receive more training through America's VetDogs initiative.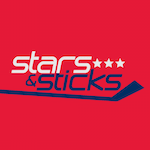 Want your voice heard? Join the Stars And Sticks team!
Write for us!
Captain has made appearances at numerous games, practices and community events. Currently he's at home during this quarantine but we're thankful for Twitter to keep us posted on what he's been up to.
Stars and Sticks can confirm that Captain is the goodest boy we've ever seen. He'll be missed when his training is up but his impact on the Caps will live on among the players. He seems to be best friends with guys like Ovechkin and even Jakub Vrana.
The fact that he's going to be helping a veteran or first responder down the line is truly refreshing and they'll be lucky to have him.