Capitals eliminate Penguins in NHL 20 simulation
The Washington Capitals bounced back after an humiliating home loss to get a huge win on the road to advance to the third round.
Just like in real life a few years ago, the Washington Capitals eliminated the Pittsburgh Penguins in Game 6 of the second round of our NHL 20 simulation. It was just as sweet a win as a victory against the Penguins in the real world.
The Penguins struck first at 18:26 in the first period to go up 1-0. It came on a shot from Sam Lefferty. 1-0 was the score after 20 with the Penguins leading in shots 7-6.
The Caps responded with four unanswered goals in the second period to go up 4-1. It all started with a shot from Dmitry Orlov at 2:04 for his third goal of the playoffs assisted by Nicklas Backstrom.
At 4:07 the Caps took the lead thanks to Alex Ovechkin who banged in a loose puck in front of the net. T.J. Oshie and John Carlson had the helpers.
At 5:31 a shot from Jakub Vrana made it 3-1. For Vrana, it was his seventh goal of the playoffs. Tom Wilson and Orlov had the assists.
At 13:44 Ovechkin added his second goal of the game and sixth of the playoffs with a backhander in front of the net. 4-1 was the score after 40. The Caps outshot the Pens 14-5 in the second perod and 20-12 overall.
The third period was scoreless with the Caps hanging on for the 4-1 win. The Caps outshot the Pens 12-4 in the third period and 32-16 overall.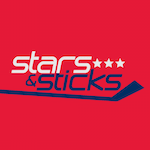 Want your voice heard? Join the Stars And Sticks team!
Write for us!
Braden Holtby stopped 15 of the 16 shots he faced for a .938 save percentage. Ovechkin and Orlov were the first two stars of the game, respectively while Lafferty was the third star.
Later this month we'll have third round NHL 20 simulation action. The third round will be a highly anticipated matchup between the Capitals and the Tampa Bay Lightning.