Capitals: Jakub Vrana and T.J. Oshie must win Best Bromance award
T.J. Oshie and Jakub Vrana of the Washington Capitals are best buds.
The Washington Capitals have been known for bromances from the popular Alex Ovechkin and Nicklas Backstrom to Tom Wilson and Michael Latta. Throughout the 2019-20 season, we learned about the bromance between Jakub Vrana and T.J. Oshie.
The NHL Fan Choice Awards is in its last week of voting and the Caps have been nominated for several categories. We've touched on a few of them already but the bromance category is one of the biggest ones on the list.
One example of how they have such a good bromance is when Oshie scored the goal of the year and both were quick to compliment each other. Against the Boston Bruins in December, Oshie dangled through two defenders and flipped the puck into the net backhanded style.
Oshie joked after the game that he had to look down and check his skates to make sure they weren't Vrana's. Vrana took to Twitter to complement Oshie's gloves from that silky move to the net.
Oshie made it to the NHL All Star Game in St. Louis but perhaps Vrana's endorsement helped push him over the edge. Vrana said, "Vote my liney @TJOshie77 for the ALL STAR game … would love to see him on the shootout competition."
Oshie responded, "We're a package deal, I go you go?"
Vrana replied, "(heart emoji) always, this one is on you brother I will be crushing popcorn watching your silky mitts on TV."
Even during the isolation with the novel coronavirus outbreak, Oshie and Vrana still kept tabs on each other and no example was more evident than when Vrana appeared on Caps Social to do a cook off with Jonas Siegenthaler. Oshie Tweeted out, "High and tight V! I thought we were growing out the flow???"
It is these examples and much more why Oshie and Vrana's bromance is the best in the NHL but nothing says it all more than this video clip below capturing it. It just makes you want to say "awwwwwww".
https://twitter.com/NBCSCapitals/status/1202093997671567361?ref_src=twsrc%5Etfw%7Ctwcamp%5Etweetembed%7Ctwterm%5E1202093997671567361&ref_url=https%3A%2F%2Fwww.nbcsports.com%2Fwashington%2Fcapitals%2Ffans-choice-should-be-clear-why-oshie-vrana-should-win-best-bromance
You can vote for Vrana and Oshie by clicking the link here. Votes are unlimited through June 1 and the winners of each category will be announced on June 3.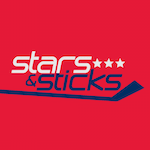 Want your voice heard? Join the Stars And Sticks team!
Write for us!
Good luck to Vrana and Oshie! May the odds be in your favor for Best Bromance.
For more information about COVID-19, visit the CDC's website or the website for your state's Department of Health.