Washington Capitals: Todd Reirden breaks down goalie situation
A big question facing the Washington Capitals is the goaltending.
There's been debates about it all season long, who should the Washington Capitals go with in net at the start of the playoffs. There's overwhelming favor for Braden Holtby and for good reason, he's a seasoned vet who's been through the playoffs before.
Ilya Samsonov, though nice for a stretch of the season, doesn't have that experience but it's likely he will get one of the Round Robin games. If you're Todd Reirden, which goalie would you start against the Boston Bruins, Philadelphia Flyers, or Tampa Bay Lightning?
Reirden recently spoke with reporters on a Zoom conference call and addressed the situation.
"I think going into it it's Braden Holtby's job to lose, and I feel confident in him. I felt confident with where things were going right before the pause in terms of how his game was coming around, and I think he'll get the first crack at it," said Reirden.
Holtby is among the four Caps players who have began working out at MedStar Capitals Iceplex in anticipation of training camp and a possible season resumption. This could be his last dance as he enters the offseason (whenever that may be) as an unrestricted free agent.
Holtby is 25-14-6 with a 3.11 goals-against average and an .897 save percentage in a regular season that was cut short. Samsonov has enjoyed a solid rookie year with a 16-6-2 record with a 2.55 GAA and a .913 save percentage. You can also expect more goaltending help as Vitek Vanecek and Pheonix Copley could be in line as "black aces" for the payoffs.
Whatever the decision it is at goaltender it looks like Holtby will be the guy in net which is no surprise considering he played better before the pause while Samsonov was trending downward.
"Braden Holtby's body of work in playoff games speaks for itself and how he definitely helped our team to win our first ever Stanley Cup and was a huge, huge part of that. So I'm happy to see that Braden's back here in town and will be working with our goalie coach coming up later this week when we're allowed to have our staff join these sessions," added Reirden.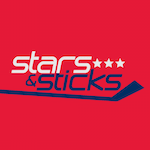 Want your voice heard? Join the Stars And Sticks team!
Write for us!
Despite Holtby being the guy though, Reirden knows he needs all hands on deck for all goalies as the team embarks on an unprecedented playoff journey.
"The one thing that I've taken all of this is we've got to be adaptable and be ready to adjust to anything that can happen, and lots of things can go awry, especially in the way that this NHL is going to be played out. So we need to have both our goalies be ready and on top of that our third and fourth goalies be ready to play," said Reirden.