Washington Capitals: Todd Reirden breaks down Round Robin
A few weeks ago Todd Reirden talked to reporters about a variety of things.
With the NHL coming soon to a TV near you, many Washington Capitals players and coaches are gearing up for the grind ahead. It'll be an unprecedented Stanley Cup playoffs in an unusual year after the season hit a pause button due to the novel coronavirus. It's a challenge for both the players and head coach Todd Reirden himself.
We are in the middle of Phase 2 where players are working out on a voluntary basis and we are just weeks away from Phase 3 which is when the 24 teams can go to training camp. The Caps are one of four teams to go through Round Robin play to determine their seeding instead of playing in the Qualifying Round so that means we get to see the likes of the Boston Bruins, Tampa Bay Lightning and Philadelphia Flyers.
Those are three very good teams and it will give the Capitals some healthy competition before they enter tournament play. Reirden had a meeting on Zoom with local reporters a few weeks ago and touched on a variety of things like goaltending, what it's like being a coach during this weird time, as well as the Round Robin ahead.
If things go well we will see our boys right from our couches. Although we all wish we were inside the arena, hockey on TV beats no hockey at all.
"We're kind of setting the tone for how things are going to be moving forward. We'll do everything we can to prepare our players to be ready for that round robin game where we can affect our seeding, and then in addition to that, going into our first playoff series against whoever that may be. I know that our players are excited about having that opportunity and feel confident in our group. It's going to be something different than anyone's ever gone through, and that's something that's intriguing and it's going to be who handles that stuff the best," said Caps head coach Todd Reirden.
The Caps are a veteran team and Reirden expressed confidence in his group heading into the round robin.
"I feel great about that situation with us having a veteran team, but how it all plays out is still the NHL's decision on how the dates work and how those decisions are made, and it's up to us as coaches and players to be able to respond and to be able to react accordingly," added Reirden.
We don't know the exact schedule yet but all signs are pointing to games beginning at the end of July. The Caps are also in a unique spot. They haven't seen the Bruins or the Lightning at all in this calendar year, those last contests are in December. The Caps recently saw the Flyers including their last game played at Capital One Arena before the pause.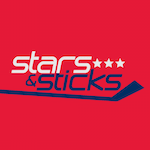 Want your voice heard? Join the Stars And Sticks team!
Write for us!
"They're all outstanding teams. To end up in the top four and be able to not be involved in that 'buy in' round is a credit to how those teams have done this year. We know that we have our work cut out for us in those first three games of a round robin and even the two exhibition games, and it's all part of the plan to be able to put us in a situation where we're able to continue to improve and get better with every day that passes, and how we're dealing with adversity that comes our way – playing at different times and playing in one venue, and not having fans – and all those types of things will be our discussion points as our team moves forward from here," said Reirden.
"But I feel really excited about the opportunity and to be able to play those best teams in the league are going to be a real measuring stick for us early on."