Washington Capitals: Breaking down Phase 3 Return to Play Plan
The Washington Capitals have now entered Phase 3.
What this means is that hockey is finally returning and it's coming soon. The Washington Capitals will continue to train at MedStar Capitals Iceplex in Arlington with the whole team partaking in training camp. The rink will be closed to the general public.
Phase three will begin on Monday and will run from July 13 through the 25th. The Caps will depart for Toronto on July 26th. The phase three roster will include 20 forwards, 10 defensemen and four goalies and will be broken up into two squads (Teams Blue and Red) and their schedules will vary.
Here is what the schedule will look like for the first four days:
Monday, July 13
10:50-11:50 a.m. Group Blue
1:20-2:20 p.m. Group Red
Tuesday, July 14
10:40 a.m.-11:40 a.m. Group Blue
1:10-2:10 p.m. Group Red
Wednesday, July 15
10:40-11:40 a.m. Group Red
1:10-2:10 p.m. Group Blue
Thursday, July 16
Scheduled day off
We are excited for the return of hockey and will have plenty of content for you in the coming weeks as the Caps gear up for a playoff journey like no other.
Their first game of the Round Robin will take place on August 3rd against the Tampa Bay Lightning, a team that the Caps swept but haven't played since the end of 2019. The Caps won the first meeting 4-3 in overtime behind a game winning goal from Dmitry Orlov. They took the next game in convincing fashion 5-2 and won the third game 3-1.
The Caps will then see the Philadelphia Flyers on August 6th, a team that gave them some trouble with Washington only winning the first game of the regular season series before dropping the next three. This is an opponent that will be tricky for the Caps to beat.
Washington won the first meeting 2-1 in a shootout. They dropped the next game 3-2. They recently met twice at Capital One Arena at the turn of the new year with the Flyers winning 7-2 and 5-2, respectively. The Flyers were red hot on a nine game winning streak just before the season was paused.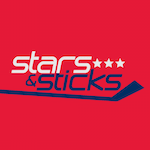 Want your voice heard? Join the Stars And Sticks team!
Write for us!
Finally the Caps will take on the Boston Bruins on August 8th, a team the Caps won two out of three meetings against with their last contest taking place in December of 2019. The Caps won the first game 3-2 in a shootout and then won a 3-2 thriller at Capital One a month later. 12 days after that the Bruins got revenge, winning 7-3.
We'll have plenty of content for you leading up to those three games.