Washington Capitals: Alex Ovechkin focused on winning, not contract extension
Washington Capitals star Alex Ovechkin spoke to the media Monday.
Alex Ovechkin has been in D.C. since late June and the Washington Capitals star joined the rest of his teammates for Monday morning's training camp. There was excitement around the rink as hockey is nearing it's return.
Following the skate Ovechkin spoke to reporters for the first time since March. He said that it wasn't "even a question to skip (the rest of the season) or play". Ovechkin missed the ice but did enjoy a quarantine period of raising his son Sergei and him and his wife Nastya gave birth to Ilya who was born in May.
"Obviously we're talking about we have to be safe, but everything seems fine. Nobody's worried about it; nobody's talking about it," said Ovechkin.
Ovechkin said that he's in "pretty good shape right now and it's just a matter of time to feel the puck and all those kind of little things." Ovechkin also expressed confidence in his group that he can win the Stanley Cup.
"It's a very exciting time. Obviously everybody miss hockey, everybody miss spend time together. Right now this is a very good time for us. We can't wait when we go to play hockey together, spend time together. It's a good month."
Ovechkin is so laser focused on winning the Stanley Cup this season that he hasn't gave thought to a new contract.
"Not even talking, not even thinking about it because right now we have lots of stuff to do," said Ovechkin.
Ovechkin had another monumental season where he scored 48 goals and added 19 assists for 67 points. Who knows how many goals he would've ended up with had they finished the season up regularly.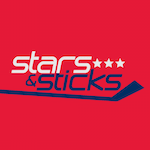 Want your voice heard? Join the Stars And Sticks team!
Write for us!
Ovechkin silenced even his harshest critics two short years ago and is ready to do so again on the Canadien stage when the Caps head to Toronto. They will open with a Round Robin schedule beginning on August 3rd against the Tampa Bay Lightning. The Round Robin will continue on August 6th against the Philadelphia Flyers before wrapping up against the Boston Bruins on August 8th.
Here is the full Ovechkin interview:
Another highlight from his interview was when he defended Ilya Samsonov's dancing during the Russian five's TikTok video. "He's a great dancer, just a short video," said Ovechkin.
Ovechkin and the Caps will continue to gear up for a playoff run like no other. We can't wait to see him light the lamp.