Washington Capitals: Notes from Day 6 of Training Camp
The Washington Capitals continued to practice on Sunday.
After a scrimmage on Saturday, the Washington Capitals held a practice on Sunday at MedStar. Here are the observations from the final workout of the weekend.
Where is Sammy and Alexeyev?
Once again Ilya Samsonov and Alex Alexeyev were out and still haven't skated since training camp opened up. T.J. Oshie, who was out yesterday, was back today. There is still one more week before the team travels to Toronto.
The first practice session featured a varsity lineup while the second practice featured more of the black aces.
Lines
Ovechkin-Kuznetsov-Wilson
Vrana-Backstrom-Oshie
Hagelin-Eller/Boyd-Kovalchuk
Panik-Dowd-Hathaway
Kempny-Carlson
Dillon-Orlov
Siegenthaler-Jensen
Fehervary-Gudas
Holtby and Vanecek
The team practiced playing the puck in the corner with a fierce battle between Tom Wilson and Brenden Dillon tweeted out by Tarik El-Bashir of The Athletic.
The Caps second group featured Connor McMichael, Garrett Pilon, Philippe Maillet, Brian Pinho, Beck Malenstyn, Shane Gersich, Daniel Sprong, Tyler Lewington and Pheonix Copley.
V and Hath
Jakub Vrana and Garnet Hathaway spoke to the media after practice. Vrana said there will be a "lot of sleep" and relaxing in the bubble. We want to congratulate Garnet Hathaway on getting married, him and his wife tied the knot on the Fourth of July in a "very, very small ceremony."
"It was a great day," said Hathaway.
Hathaway confirmed that the podcast equipment will be making it's way to Toronto.
Vrana said the practicing has gone well.
"I honestly feel really good. We're just practicing now and getting more contact every practice. Getting more battles going. Getting back to being game ready. I feel good to go," said Vrana.
Vrana had trained with Michal Kempny during the quarantine. Kempny said he had been feeling really good and Vrana confirmed Kempny was in good shape.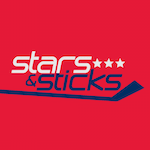 Want your voice heard? Join the Stars And Sticks team!
Write for us!
Todd Reirden spoke to the media and confirmed that Travis Boyd will take Lars Eller's spot when Eller leaves for the birth of his second child. We'll see plenty of this rotation leading into the Round Robin to prepare Boyd for this scenario.
The Caps will hit the ice at 11:05 a.m. tomorrow with Group Blue. At 1:35 Group Red will practice. The team will practice again on Tuesday before an off day on Wednesday. On July 26th the team will depart for Toronto. On July 29th they'll take on the Carolina Hurricanes in an exhibition game with a 4 p.m. puck drop before opening Round Robin play on August 3rd against the Tampa Bay Lightning.