Washington Capitals: Ilya Samsonov won't join team in Toronto
The Washington Capitals will be without their backup goalie Ilya Samsonov.
Ilya Samsonov hasn't been on the ice all training camp and on Saturday morning the Washington Capitals confirmed that he will not be traveling with the team to Toronto due to injury. We don't know the details or extent of the injury.
Samsonov will remain in Washington to continue treatment and the team expects him to make a full recovery for next season. So the goalies who will head to Toronto for the playoffs are Braden Holtby, Vitek Vanecek and Pheonix Copley. The Caps have one more practice at MedStar Capitals Iceplex before they depart to Toronto on Sunday.
Samsonov had to battle for the backup spot prior to the season and had a good preseason to get the spot. Plus the Caps being tight against the salary cap played a factor in it too.
Samsonov officially made his NHL debut on Oct. 4 against the New York Islanders and helped the Caps to a win where he stopped 25 of the 26 shots he faced for a .962 save percentage. He never looked back. He won his next start in Dallas with a 24 save performance on 25 shots he faced for a .960 save percentage.
Samsonov went on a streak where he won seven straight games before he hit a rookie wall and lost each of his next four. He finished the season with a 16-6-2 record with a 2.55 goals-against average and a .913 save percentage.
The question now is who the backup goaltender will be and it'll come down to Pheonix Copley and Vitek Vanecek, each with good seasons with the Hershey Bears.
Vanecek went 19-10-1 this season with a 2.26 goals-against average and a .917 save percentage. Copley finished 17-8-6 with a 2.47 goals-against average and .905 save percentage.
Although Samsonov hasn't been on the ice all training camp he's been back in D.C. and still got to hang out with his teammates. He was even in a TikTok video showing off his um.. interesting… dance skills.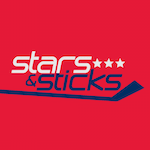 Want your voice heard? Join the Stars And Sticks team!
Write for us!
Now with Samsonov out for the playoffs it looks like the net will be Holtby's for the playoffs. Holtby finished the regular season with a 25-14-6 record with a 3.11 goals-against average and an .897 save percentage.
A month ago, head coach Todd Reirden said it was Holtby's job to lose for the starting netminder in the playoffs. Now it's up to him and either Vanecek or Copley, depending on who gets that backup spot in goal.