Washington Capitals: Life inside the bubble
The Washington Capitals are here in Toronto.
The Washington Capitals landed in Toronto on Sunday marking their territory inside the NHL's Eastern Conference Hub City. They will be calling home at the Hotel X and they won't leave that spot except to go to practices and games.
The Caps have one full day of practice under their belts in Toronto in which everyone participated in. So far their impression of the bubble has been positive as expressed in their Zoom conference call with the media.
"It's been fun. Just trying to get the feel for it. There's certainly a lot of space for us, a lot of different activities. I haven't quite checked everything out yet, but everything's smooth, the food is really good and we're enjoying ourselves," said Caps defensemen John Carlson.
"We just think about what we practice, get your food and then get some rest. Everything besides hockey they take care of it from us so it's good," added Alex Ovechkin.
Safety is a top priority in the NHL and both head coach Todd Reirden and Carl Hagelin feel safe in the bubble.
"Talking to our players today, they're really impressed with the work that the NHL has done and Hotel X here in Toronto has been really on top of things. I think we're off to a good start in terms of that, in terms of the safety of players, the testing that's gone on, it's been well organized and smooth," said Reirden.
The NHL recently reported that there's no positive coronavirus cases in either Edmonton or Toronto.
"Safety is just what we expected. It is unbelievable. Feels super safe here. It is the safest I've felt since this happened in early March," said Carl Hagelin.
The biggest challenge for the players won't be stepping on the ice for the first time in nearly five months but rather spending time away from their families. The further they go in the playoffs, the longer they'll be away.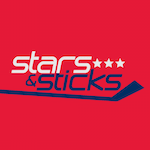 Want your voice heard? Join the Stars And Sticks team!
Write for us!
"The first night was kind of tough because the last four months we spent with our kids and our wives or girlfriends. But I'm pretty sure lots of guys was missing that moment stay together. Being on the road again, it's a cool thing," said Ovechkin.
The Caps will practice today at 3 p.m. at the Ford Performance Centre before taking on the Carolina Hurricanes on Wednesday afternoon at 4 p.m. in an exhibition game.