Washington Capitals: Twitter will be the place to be during Stanley Cup Playoffs
Twitter will be the place to be to voice everything playoff hockey.
Washington Capitals fans are excited for the Stanley Cup playoffs which begin today for the NHL and for the Caps themselves on Monday. The official app to be for the playoffs is Twitter.
On Tuesday, the NHL, Twitter, and Disney Streaming Services announced a partnership that will deliver live two minute look ins on Twitter of select NHL games during the Stanley Cup Qualifiers and the Stanley Cup playoffs to fans in the U.S.
For the first time ever, hockey fans will be able to utilize Twitter poll voting to select which games will feature live look ins as part of an effort to drive awareness and viewership of NHL game broadcasts.
Beginning today on August 1 for each subsequent week during the 2020 Stanley Cup Qualifiers and the first two rounds of the Stanley Cup playoffs, the NHL will select two game nights per week that will feature the live look ins on Twitter. On the days leading up to the selected dates, fans will be invited to vote for the game they'd like to see featured as the live look in game on the NHL's Twitter account @NHL.
The NHL will announce the winning matchup on the morning of the game. During the conference finals, a minimum of five games will be featured as live look in games while live look ins of every game of the Stanley Cup Final will be featured until the Stanley Cup is awarded.
This is a great way to increase engagement on social media during the playoff games as we all have been anxiously awaiting the return of hockey. Twitter is the home for engagement among hockey fans and we love it when we're interacting with other fans on the social media platform.
First up is the New York Rangers taking on the Carolina Hurricanes at noon. At 3 p.m. the Chichago Blackhawks will take on the Edmonton Oilers. At 4 p.m. the Florida Panthers will go up against the New York Islanders. At 8 p.m. the Montreal Canadiens and the Pittsburgh Penguins will be up. Finally, at 10:30, the Winnipeg Jets will take on the Calgary Flames. Ah, hockey all day long.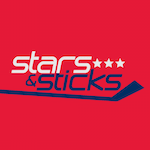 Want your voice heard? Join the Stars And Sticks team!
Write for us!
There will also be a full slate of games on Sunday featuring qualifying games of the Arizona Coytoes and Nashville Predators, the Columbus Blue Jackets and Toronto Maple Leafs, and the Minnesota Wild and Vancouver Canucks. The round robin schedule will feature the the Philadelphia Flyers and Boston Bruins and the St. Louis Blues and Colorado Avalanche.
On Monday, the Caps will take on the Tampa Bay Lightning in a game we've all waited a long time for. Puck drop for that one is at 4 p.m.