Washington Capitals: Round Robin Game 2 vs. Philadelphia Preview
The Washington Capitals have officially begun playing meaningful hockey…well, sort of.
The Washington Capitals dropped the first game of their round-robin tournament to the Tampa Bay Lightning 3-2 in a shootout. Up next on their schedule are the Philadelphia Flyers.
Philadelphia came into the stoppage as one of the hottest teams in hockey having won eight of their last nine games. The Flyers also begun their round-robin tournament, however, theirs got off to a different start than the Caps.
The Flyers downed the President's-Trophy-winning Boston Bruins 4-1 back on August 2nd. The Bruins were without starting goalie and Vezina-Trophy nominee, Tuukka Rask, who was deemed 'unfit to play' in this game.
In their game with the Bruins, the Flyers were led by Michael Raffl who notched a goal and complimented it with an assist. They received support from Nate Thompson, Scott Laughton and Philippe Myers who all added goals of their own.
Carter Hart made an impressive 34 saves on the 35 shots he faces from the offensively gifted Bruins.
Both teams were unable to score on the powerplay and, as a result, were perfect on their respective penalty kills.
Washington, as previously mentioned, was defeated 3-2 by Tampa Bay on August 3rd in the shootout.
It is worth noting that Washington was forced to play without top defenseman, John Carlson.
Tampa Bay got off to the early lead of 2-0, but the Capitals responded with two goals of their own from Richard Panik and Evgeny Kuznetsov.
The Capitals went 1-for-4 on the power play, although one of those was an abbreviated nine-second power play in the dying seconds of overtime. The Caps managed to not take a single penalty which is a great sign, as last game they took far too many penalties to be successful.
Braden Holtby managed 26 saves and, for the second straight game, looks confident in net. The goals that he did allow were tough to blame on the veteran netminder. Mitchell Stephens' goal was one that Holtby could do nothing about, and Nikita Kucherov has a world-class shot which is always tough to stop, regardless of the angle.
Heading into their game, the Flyers appear to be the favourites based on their late-season dominance and controlling victory over the Bruins. The Capitals should have Carlson back which will be a huge boost to their lineup overall, but hopefully also on the power play.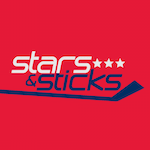 Want your voice heard? Join the Stars And Sticks team!
Write for us!
As it stands now, the Philadelphia Flyers and Tampa Bay Lightning are tied for first in the round-robin, with Washington in third and the Boston Bruins in fourth.
As mentioned, the Capitals return to action Thursday, August 6th against the Philadelphia Flyers. Puck drop is at 4 p.m. and you can catch the game on NBCSN and NBC Sports Washington.