Washington Capitals down Bruins 2-1
The Washington Capitals won their last Round Robin game.
The Washington Capitals hung on and defeated the Boston Bruins 2-1 to win their final game of the Round Robin and assure the number three seed entering the Stanley Cup playoffs. The number three seeds locks in a matchup with Barry Trotz's New York Islanders in what is sure to be a good first round matchup.
T.J. Oshie put the Caps up 1-0 with 16 seconds remaining with a goal right in front of the net. Nicklas Backstrom's shot was stopped by Tuukka Rask. Zdeno Chara tried to play the puck but Oshie smacked his stick and the puck rolled into the net. 1-0 would be the score after the first period with the Bruins leading in shots 6-2.
The second period was scoreless with the Caps leading in shots 13-10. The third period was critical and the Caps took advantage early. Tom Wilson scored on a breakaway at 2:49 with Ilya Kovalchuk and Michal Kempny providing the assists. It gave the Caps a 2-0 cushion.
The Bruins got one back in the third period on a goal from Jake DeBrusk at 10:30. Other than that mishap, Braden Holtby stood tall stopping 30 of the 31 shots he faced for a .968 save percentage. The Caps killed both penalties they took while coming up empty on their two power play chances.
With the win the Caps are set to take on the New York Islanders in their first round matchup.
"It might be a bit of a chess match, but we are confident in our group… We are excited for it," said Wilson.
"Obviously a great matchup for the Washington Capitals and New York Islanders. It's not Barry Trotz vs. Todd Reirden," said Capitals head coach Todd Reirden.
"I think it will be one hell of a series. Both teams are well equipped to go at each other," said Islanders head coach Barry Trotz.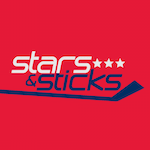 Want your voice heard? Join the Stars And Sticks team!
Write for us!
Both teams are evenly matched. They split the four game regular season series with each team winning on the road.
"It's going to be a hard series, a fun series. It is going to make for some really good hockey and right now it is up to us to make sure we are mentally committed, everyone on our team to be ready for that and it is going to be fun," said Holtby.
The Caps and Islanders will meet this week. As of this writing it is unknown when the first game will be.