Washington Capitals reportedly hire Peter Laviolette
The Washington Capitals have found their next coach.
Welcome to Washington, Peter Laviolette! He will be the 19th head coach in Washington Capitals history and the seventh of the Alex Ovechkin era that has stretched 15 seasons. Laviolette will be just the second head coach Ovechkin has played under that has had prior head coaching experience in the NHL. Elliotte Friedman was the first to report the news. Darren Dreger reported that it's a three year contract.
A three year contract means Laviolette will be either the last or second to last coach Ovechkin plays under. It shows that Brian MacLellan and the Capitals are going all in in the final years of the Ovechkin era.
Pierre LeBrun reported the salary. Laviolette had another year left of his old Nashville Predators deal at $2.5 million. The Caps are picking up all of that leaving the Preds off the hook. The deal is worth north of $4 million per year.
MacLellan and prior to that George McPhee tended to hire rookie head coaches and not spend a lot. This deal was a fair offer to Laviolette that pleased both sides. When MacLellan fired Todd Reirden after a second straight first round exit, he told reporters about his desire to find a veteran head coach.
MacLellan noted that the organization has "higher expectations for our team, and we felt a fresh approach in leadership was necessary."
Laviolette is the perfect choice to be the next head coach of the Capitals with his fiery and passionate demeanor. He has coached a total of 1,210 games for 18 years as a bench boss of the New York Islanders, Carolina Hurricanes, Philadelphia Flyers, and Nashville Predators. His record is 637-425-25-123.
Laviolette mostly spent his playing career in the minors and played in 12 games as a player all for the New York Rangers during the 1988-89 season. He had more success as a coach guiding three teams to the Stanley Cup Final and winning one in 2006 with the Hurricanes. He took the Flyers to the Stanley Cup Final in 2010 and the Predators to one in 2017.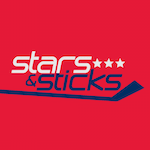 Want your voice heard? Join the Stars And Sticks team!
Write for us!
Laviolette was fired by the Predators in January after the team was on the cusp of missing the playoffs. The Caps got permission from the Predators last month to interview Laviollete, the coach still had a year left on his contract.
The Caps got it right with their next coaching choice which was an important step as the championship window is starting to close. Now their poker chips are pushed to the center of the table. The Caps are going all in in the final years of Ovechkin's career.