Washington Capitals re-sign Shane Gersich
The Washington Capitals continued to help boost the Hershey Bears.
The Washington Capitals have re-signed another player for the Hershey Bears in Shane Gersich. Gersich was signed on Wednesday to a one year, two way deal. He will make $700,000 in the NHL and $150,000 in the AHL.
The 24 year old had a solid season with the Hershey Bears last season scoring 18 points with 10 goals and eight assists. On Jan. 31st at Bridgeport, Gersich recorded his first career AHL hat trick.
The Chaska, Minnesota native also has some NHL experience under his belt although it was a couple of years ago. He made his NHL debut on March 28, 2018 against the New York Rangers and appeared in three games that season as well as two playoff games in the Eastern Conference semifinal against the Pittsburgh Penguins while serving as one of the team's black aces. Gersich got that opportunity after Tom Wilson served a three game suspension.
Gersich brought the team luck as the Caps captured the Stanley Cup and he even got to take part in T.J. Oshie's day with the Cup along with Travis Boyd.
In the 2018-19 season, the six foot, 180 pound forward had 24 points with eight goals and 16 assists in 66 games with the Bears in what was his first professional season. Gersich added another three points with a goal and two assists in nine playoff games with the Bears.
Gerisch had a great rookie season leading Bears rookies in power play goals with two and ranked second in points per game with 0.36 among Herhsey rookies with at least 10 games played. In 210 career games with Hershey, Gersich has registered 42 points with 18 goals and 24 assists.
Gersich can be an impact player on the top six in Hershey's lineup. He will definitely produce when his name is called and perhaps even get another look at NHL action if there's an injury to the big club.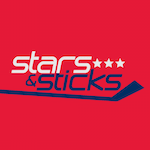 Want your voice heard? Join the Stars And Sticks team!
Write for us!
Gersich was on the hockey map with a highlight reel spin o rama goal back when he played for the University of North Dakota. In his junior year in 2017-18, Gersich recorded 29 points with 13 goals and 16 assists in 40 games which made him the second highest goal scorer at North Dakota. He also tied for most game winning goals with four.
One thing I'm excited about seeing is Gersich someday getting more NHL action and scoring his first NHL goal. Here's hoping it comes real soon as his speed, agility, and puck handling could help the bottom six or wherever he's needed in the lineup in case of injury.