Washington Capitals get fined for COVID protocol violations
It was bad enough the Washington Capitals left Pittsburgh without a win over their enemies. It got worse on Wednesday night when the NHL announced they would be fining the team $100,000 for violations of COVID-19 protocols.
In addition, four Caps players including team captain Alex Ovechkin were placed on the NHL's COVID-19 protocol absences list after him and a few of his teammates gathered in a hotel room. Because of that, players on that list are prohibited from practicing or playing but can be taken off the list at any time.
Additionally, Evgeny Kuznetsov, Dmitry Orlov and Ilya Samsonov were placed on the protocols list. According to the league, they said the players were "involved (in) social interactions", "were in close contact", and "not wearing face coverings".
It's unclear whether or not those players will be available for Friday's home opener against the Buffalo Sabres. As of this writing, none of the players mentioned above practiced with the team in Thursday's skate in Arlington.
Both the Capitals and Ovechkin released statements. The Caps statement read: "Our training staff has worked extremely hard to create a safe environment for our players and staff to be able to compete this season. We are disappointed by our players' choice to interact in their hotel room and outside of team approved areas. We accept the NHL's decision and once again will reiterate the COVID-19 Protocols in place to make sure the players are in full compliance moving forward."
Ovechkin's said: "I regret my choice to spend time together with my teammates in our hotel room and away from the locker room areas. I will learn from this experience."
The NHL protocols in place this season said that each member of a traveling club is "required to stay in a single occupancy room, and no individual shall permit guests or other personnel in their room." It's strict on the road and not the same as it was in years past.
Each NHL city has a league designated hotel for visiting clubs and players cannot "patronize or enter internal venues other than the designated hotel, the practice facility, or the game arena."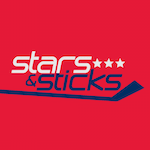 Want your voice heard? Join the Stars And Sticks team!
Write for us!
If you're placed on the COVID absences list, that doesn't necessarily mean that a player has tested positive but it odes indicated that someone around you has tested positive.
The Caps are the first team fined because of COVID-19 violations. Here's hoping they learned their lesson and that they can behave better next time they're on the road.